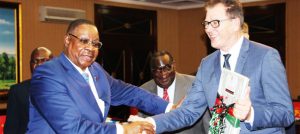 Germany to invest in local bio-energy
By Patricia Kapulula:
German Federal Minister of Economic Cooporation and Development, Gerd Muller, has said Berlin is considering a special pact with Lilongwe aimed at increasing investments in bio-energy and boosting the country's energy sector.
Muller said this at Kamuzu Palace in Lilongwe on Monday when he had an audience with President Peter Mutharika.
The commitment came after Mutharika admitted that Malawi faces energy challenges.
Muller said the two governments would identify best options of implementing the programme.
"This country has a huge potential with regards to biomass, water, wind or solar energy. We need to expand this sector," Muller said.
He said the decentralised form of energy such as bio-energy is vital for improving rural livelihoods which can benefit small-scale farmers.
"We will try to woo investors to come to Malawi and invest, especially in the energy sector. We must take the sector forward in this country," he said.
Malawi heavily relies on water for electricity generation.
A drop in water levels on Lake Malawi affects electricity generation capacity in the country.
Malawi and Germany have embarked on negotiations on projects to implement in 2019 valued at 58 million Euros (over K48 billion).
The support to agriculture sector is meant to improve connectivity by establishing an agriculture centre in Malawi which will increase value creation and connectivity, thereby achieving fair pricing and fair trade.
Malawi and Germany have been in a bilateral partnership for 55 years.—Mana
Latest posts by Vanessa Banda
(see all)