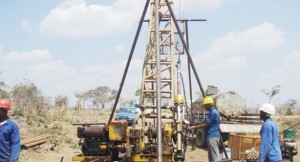 Globe Metals Ltd gets mining lease
Globe Metals and Mining Limited has announced that its Mining Lease application with respect to the Kanyika Niobium Project has been approved by the Ministry of Natural Resources, Energy and Mining.
In a press release issued on Monday the company said the approval is subject to the conclusion of a Development Agreement currently under discussion with government.
"The Development Agreement when finalised will specify the conditions of operation for the Kanyika Niobium Project whilst in production," the company said.
The company further said in the statement that the Development Agreement, which has been under discussion since 2012, is in progress and is expected to be concluded this calendar year.
The agreement will lead to a mining licence for the company to develop what would be the country's second biggest mine after Kayerekera.
Initial estimates showed that the company would invest a capital of US$220 million in the project, operational cost of US$60 million and US$15 million for other costs to kick start production of niobium and sub products products.
However, the mine will require 12.5 megawatts of power which it proposes to generate from 10 million litres of diesel annually.
But proposals are that the mining should be connected to the national power grid given costs implications of running diesel generator.
Initially Globe metals offered equity of 15 per cent to government in the mine just as the Kayerekera Uranium Mine but that is part of the development agreement discussion.
The Kanyika mine will involve extraction of niobium-containing ore from a single longitudinal pit using conventional open pit mining methods.
According to the company, the initial ore mining rate will be 1.5 million tonnes per year possibly increasing to 3 million tonnes per year to produce 3,000 tonnes per year of niobium metal.
(Visited 22 times, 22 visits today)
Latest posts by Vanessa Banda
(see all)