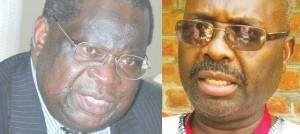 Goodall Gondwe challenges local accountants
Finance Minister, Goodall Gondwe, has challenged accountants in the country to be in the forefront in the war against fraud and corruption if the nation is to avert a resurface of plunder of the government funds.
Gondwe was speaking at the opening of the Institute of Chartered Accountants Of Malawi (Icam) lakeshore conference in Mangochi on Friday.
This comes as recent statistics from the UN shows that Malawi is losing nearly 16 percent of its gross domestic product in illicit financial fraud annually.
The challenge also comes at a time when Malawi continues to nurse the wounds of the Cashgate; Malawi's historic financial scam where some civil servants connived with some businesspeople and politicians in siphoning government's coffers.
Gondwe asked the accounting professionals to value integrity and professionalism in safeguarding both the public and private sectors' financial resources.
Gondwe said authorities will not spare any culprit of fraud and corruption.
According to Gondwe, the country does not wish to crawl back to the levels where billions of government funds are diver ted for particular individual people's interests.
He lamented the visible effects of plunder and loot which include the closure of the budget aid taps.
"We hardly had corruption here in Malawi in the past years. That is why we had effective development. Now it is not the case, we can't go far in development," hinted Gondwe.
He said Treasury expects nothing less than the truth and accountability from the professionals, saying no one is anticipated to defraud the earmarked funds.
One of the presenters, professor of economics at the University of Malawi, James Khomba, concurred with Gondwe in challenging the delegates, saying accounting professionals remain pivotal to the growth of the economy.
"We need a profession that will build the national development on the premises of integrity," he said.
The conference was held under the theme 'Strengthening Governance and Accountability for Sustainable Development'.
(Visited 1 times, 1 visits today)
Latest posts by Vanessa Banda
(see all)