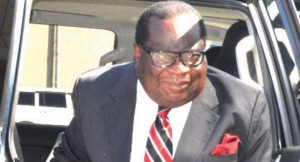 Goodall Gondwe dumps zero-aid budget
Finance Minister Goodall Gondwe says he will not present a zero-aid budget this afternoon following resumption of budget support by some of Malawi's development partners.
Gondwe is today expected to deliver his 2015/16 budget statement in Parliament which is estimated at K900 billion. The minister has expressed optimism of more budgetary support trickling in from Malawi's traditional donors as the year progresses.
"The African Development Bank has given us some budget support this year and the others will consider soon within the year. For the rest of the details, I will make them available in Parliament through my presentation," said Gondwe.
Earlier last month, the minister told the media that Treasury is expecting budget contributions amounting to K40 billion from Malawi's development partners.
However, economic analysts foresee challenges in implementing the financial plan in the absence of strong budget support from donors who have traditionally contributed close to 40 percent to Malawi's national budget.
Executive Director of the Malawi Economic Justice Network Dalitso Kubalasa warned in a separate interview of continued fiscal pressure as most budget aid taps remain closed.
"Of course, we are hoping that this time around, things would be slightly better because we have had the nod from the International Monetary Fund under the Extended Credit Facility Programme which will still add something," said Kubalasa.
Meanwhile, some economic analysts have hailed the government for successfully implementing the 2014/2015 national budget using domestic resources.
Economics Association of Malawi (Ecama) president Henry Kachaje said the budget performance has been satisfactory considering the challenges faced due to the floods and the dry spell.
"What remains to be seen is whether the budget has performed on actual revenues or on increased domestic debt. Unfortunately, Ecama is yet to do an analysis in this regard and, therefore, might not wish to comment further in the absence of factual evidence," he said.
Former Ecama president Edward Chilima said the government has done well in running the economy in the absence of donor aid.
"Naturally, some sectors suffered from underfunding, but overall the country did not come to a standstill. This is commendable. What is pleasing is that despite that lack of donor aid, the government has managed to perform quite well in some critical areas," said Chilima.
Latest posts by Vanessa Banda
(see all)