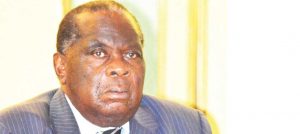 Goodall Gondwe expects further aid cuts
Minister of Finance, Economic Planning and Development, Goodall Gondwe, says he anticipates a further cut in grants and development aid this year.
This puts the Treasury in a fix and with a daunting task to broaden the system's ability in mobilising additional resources within the country to implement the financial plan.
Gondwe said this last week on the sidelines of the first session of the 2017/18 pre-budget consultation meetings.
He said Treasury was formulating the 2017/18 national budget within the K1.2 trillion-framework and will be largely funded by locally generated resources.
"We will have some grants but very reduced. We will also have resources for development budget, but the amount will be low.
"We still have designated grants, but we do not have budgetary support. Subtraction of the budget support has an impact on the budget," Gondwe said.
He, however, said Treasury staff is still consolidating the budget figures to be officially unveiled in May.
According to Gondwe, all factors considered, there might not be a huge difference with the 2016/17 budget.
He ruled out possibility of direct budget aid inflow with the grants from development partners forecast to shrink to only 2.9 percent of the fiscal plan.
"We expect that we will not have budgetary support again in the coming year. Things are changing but with the right interventions, we will manage with the resources that we have.
"We will compress the expenditure side and reduce deficit. We will reduce thirst for borrowing and this is the way forward," Gondwe said.
Gondwe has forecast a budget deficit of less than four percent of the gross domestic product in the coming financial year.
He said the economic plan intends to tally domestic revenue with recurrent budget.
Reacting, Economics Association of Malawi (Ecama) President, Henry Kachaje, said there was nothing wrong operating a budget that is in line with available resources.
"If there has not been broadening of the resource base, we can maintain the national budget figure," Kachaje said.
However, Malawi Confederation of Chambers of Commerce and Industry (MCCCI) cautioned government to operate within realistic assumptions when developing the budget.
(Visited 5 times, 5 visits today)
Latest posts by Vanessa Banda
(see all)