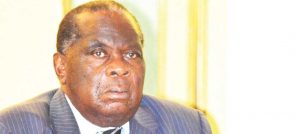 Goodall Gondwe lashes at critics
Finance Minister Goodall Gondwe has taken a swipe at local economic commentators, accusing them of being prophets of doom.
Gondwe said he does not take any of the comments they make into account for the fact that they do not consider statistics and the situation on the ground when making their predictions.
The development comes against comments from economic experts and institutions on what the economy may face in regard to performances of various macroeconomic factors.
Just last week, delegates and presenters during the Institute of People Management Malawi (IPMM) annual conference were of the view that industrial strikes are fast eroding productivity, thereby putting the economy at risk.
Earlier this week, Nico Asset Managers highlighted that high levels of government debt coupled with unreliable power supply are posing serious threats to the country's growth prospects.
And during the recent debate on the just-lifted ban on maize exports, commentators hinted that farmers have sold a lot of their maize at rock bottom prices to make tangible returns for investment in the coming growing season, which will reflect negatively on inflation.
Reacting to such trends of comments, the former IMF economist said he looks at the current situation and how he could improve things moving forward, and not how bad the situation can get.
"I sometimes get confused with these so-called experts because all what they do is to tell how bad things are going to be they never talk about how good things are going to be.
"I do not take them into account at all; I take the facts as they are and decide how best I can improve the things," Gondwe said.
He conceded that the economy is likely to face increased inflationary pressures at the end of the year.
"We are likely, probably towards the end of the year, going to have an edging up of inflation, but this is seasonal. We have that problem every year and after that it will get back to the downward trend depending on how we will handle the economy and not the things they are talking about," Gondwe said.
(Visited 53 times, 53 visits today)
Latest posts by Vanessa Banda
(see all)