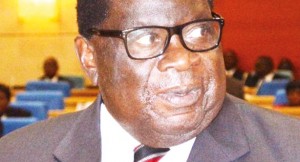 Goodall Gondwe promises recovery next year
Minister of Finance Goodall Gondwe says government is putting in place measures for the recovery of the economy and promises a turnaround "by this time next year."
He was speaking to journalists on Tuesday in Lilongwe after signing an agreement with the World Bank of a US$75 million injection towards social protection.
Gondwe said the current situation was not expected and that he has sent fiscal and monetary experts in government back to the drawing board to craft measures that should propel a transition to more stable situation.
He assured Malawians that the current economic problems will come to pass but urged people to be more productive and adjust to the current situation.
"By the end of this financial year, you'll be clapping hands for government but it requires you and me to work extra hard," said Gondwe.
On depreciation of the local currency, Gondwe said all of Malawi's neighbours have passed thorough sharp depreciations of their currencies and that Malawi should learn to adjust to such situations.
He cited the Zambian kwacha which, before zeros were cancelled in the revaluation of the currency, was trading at K7, 000 to a dollar.
The same, said Gondwe, was the case in Mozambique and Tanzania and that Malawi may have to go through similar situations before the kwacha settles down.
On high interest rates, Gondwe said the government has a responsibility to put in place right policies that will, among others, eventually reduce interest rates.
"The private sector will rise up to the occasion if we create a more conducive environment with right policies," he said.
The ultimate objective of the government, said Gondwe, is to increase private sector productivity and create more jobs in the economy.
(Visited 1 times, 1 visits today)
Latest posts by Vanessa Banda
(see all)