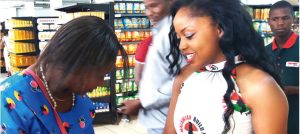 Government claims Buy Malawi Strategy bearing fruit
By Eric Msikiti:
The Ministry of Industry, Trade and Tourism has said the Buy Malawi Strategy has registered remarkable results some two years after it started.
Director of Small and Medium Enterprises (SMEs) and Registrar of Cooperatives in the ministry, Wiskes Nkombezi, said this at the weekend when the ministry conducted a Buy Malawi campaign targeting buyers in Blantyre.
Nkombezi said the ministry is satisfied with the amount of locally made products in stock in major shops, saying some of the shops are stocking over 80 percent of locally made products.
Nkombezi said, the strategy, which aims at promoting locally made products, has also made it possible for many Malawians to establish and register businesses with the ministry.
"So far, we have registered 28 local companies, we are processing 66 and we have reached out to around 166 companies through the Buy Malawi initiative which is good for the country's economic development," Nkombezi said.
He said locally made products are not as expensive as many people believe.
"These issues are a matter of perception but if the prices are indeed high, in the long run as we continue registering local companies and as Malawians continue buying locally made products, the prices will stabilise owing to market forces of demand and supply," Nkombezi said.
He appealed to Malawians to make Malawian products part and parcel of the festive season.
Speaking during the campaign, a representative of Rab Processors Limited, Dorothy Mwadzangati, said the Buy Malawi Strategy has helped the company improve sales.
"I think Malawians now appreciate the importance of buying local products because it helps the nation's economic well-being and demonstrates one's patriotism," Mwadzangati said.
Latest posts by Vanessa Banda
(see all)