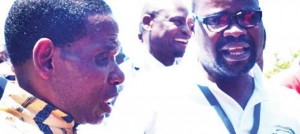 Government drafts economic empowerment bill
The government has drafted the Malawi Economic Empowerment Bill, which will spearhead implementation of Buy Malawian Strategy which calls for a minimum of 30 percent purchase of goods and services from local firms.
Minister of Industry, Trade and Tourism, Joseph Mwanamvekha, said this during the opening of the 6th annual procurement and supply management conference in Mangochi on Friday.
"As you are all aware, during the launch of the Buy Malawi Strategy, His Excellency the President directed that at least 30 percent of all public procurement (as a minimum) should be awarded to Malawians. I am aware that there are capacity and quality challenges that are making enforcement of this directive difficult.
"As government, we have already drafted the Malawi Economic Empowerment Bill to support this directive. We expect the bill to be deliberated in the next sitting of Parliament and we appeal for your support," Mwanamvekha said.
He further appealed to the private sector to support local Malawian firms by making deliberate efforts to procure from them to support the economy.
"You will agree with me that government is the biggest spender in the economy and Malawians need to be empowered by integrating them in the value chain. Similarly, I would want to urge the private sector to emulate what we are trying to do in public procurement by supporting Malawian businesses," he said.
On her part, Malawi Institute of Procurement and Supply (Mips) Acting president, Bernadette Maele, said the recent passing of the Mips Act by Parliament signifies the seriousness of the procurement profession.
"We are serious in this profession. We would like to call on government to work with us in making sure that all procurement issues are handled in the most professional manner possible to avoid our country becoming a laughing stock out there because of the way we lose money due to fraudulent procurement procedures," she said.
"I urge members of this important profession to be persons of high integrity and not spoil their good names with unprofessional practices such as corruption, which is for temporary gain, but has far reaching negative consequences on the profession as well as the nation in general," said Maele.
The theme of this year's conference was 'sustaining professionalism in procurement and supply management'.
(Visited 1 times, 1 visits today)
Latest posts by Vanessa Banda
(see all)