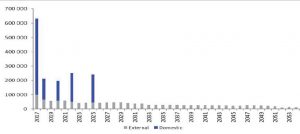 'Government ignores expert advice on borrowing'
By Chimwemwe Mangazi:
A recent report by the Centre for Social Concern (CfSC) has indicated that debt contraction processes in Malawi are very elaborate but are not followed which has led to Malawi's public debt reverting to unsustainable levels.
The report, titled 'Malawi's Debt Sustainability Study', which analyses trends from 2006, indicates out that public debt went up significantly to K2.9 trillion in June 2018 from K426 billion in 2005.
"The interviews with key personnel at the Ministry (of Finance) reveal that, in most cases, technical advice is not adhered to, and there are occasions that technical staff is completely ignored.

"There is expertise within Dad [Debt and Aid Management Division] in both the Planning Unit and Resource Mobilisation Unit to do thorough analysis of loans and projects. Disregard of technical advice results in authorities signing for very unfavourable loan conditions," reads the report in part.
The report further recommends that authorities must carefully scrutinise loans to ensure that any new borrowing should be directed with highest priority to the productive sector of the economy such as agriculture, energy and transport sectors.
Finance, Economic Planning and Development Minister, Goodall Gondwe, laughed off the findings of the report stressing that technocrats in the ministry are the ones that work on the budget the loans that Malawi signs.
"We have got the Budget Department, we have Director of the Budget, we have Secretary to the Treasury and myself. All these people are technical people and are working on the budget. The president has nothing to do with it. He gives us the green light on what he wants to be done and we budget for it.

"There as on domestic debt has gone up is because we did not have budget support, we had a lot of losses of money through Cashgate and for us to continue with government services, paying salaries and everything else and going in with development budget also, the IMF advised us to start with borrowing and temper it later when we are sure of our resources," Gondwe said.
He added that the trend was as result of the economy not being able to produce as much as was expected which resulted in the Malawi Revenue Authority not collecting enough taxes, leading to a higher domestic debt.
Latest posts by Vanessa Banda
(see all)