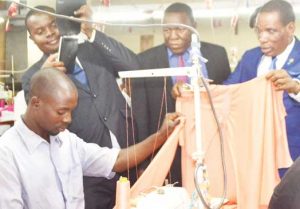 Government to review Export Processing Zone process
Government has disclosed plans to review the Export Processing Zone (EPZ) scheme so that more companies produce for the export market.
According to the Ministry of Industry, Trade and Tourism, the EPZ certificate is given only to those companies that exclusively produce for the export market.
The review comes at a time when a number of companies have decided to pull out of the scheme.
Speaking on the sidelines of a tour at Win Win Garments in Chirimba, Minister of Industry and Trade, Joseph Mwanamvekha, said the Ministry seeks to understand why companies are pulling out of the scheme.
Mwanamvekha said Malawi needs to export more of its products to boost her foreign exchange reserve.
"We are not pleased to note that over the years more companies have pulled out of the EPZ. I came here to understand the challenges these companies face and why they are pulling out.
"The feedback from here will help us in the review of the policy, so that it benefits more companies. Suppose, we had 100 companies like Win Win that are producing for export, will Malawi not transform within a year?" Mwanamvekha said.
He further said the Ministry has also expanded the Win Win licence to allow it expand into blanket manufacturing.
"We have extended their licence according to their application that once they set up the factory they will employ about 250 people on top of the 600 people they already employed for the textile manufacturing company," he said.
Win Win Human Resource Manager, Richard Helmise, said the company faces a number of challenges when exporting their goods to the United States market.
He said such problems include delays they face at Beit Bridge in South Africa and Nyamapanda borders in Zimbabwe.
"Each and every container of ours passing through the two borders is opened and searched which results in delays to deliver the goods. We are in contract with our buyers and they give us delivery dates. If we miss the deadline, they either cancel or buy at half price," Helmise said.
(Visited 1 times, 1 visits today)
Latest posts by Vanessa Banda
(see all)