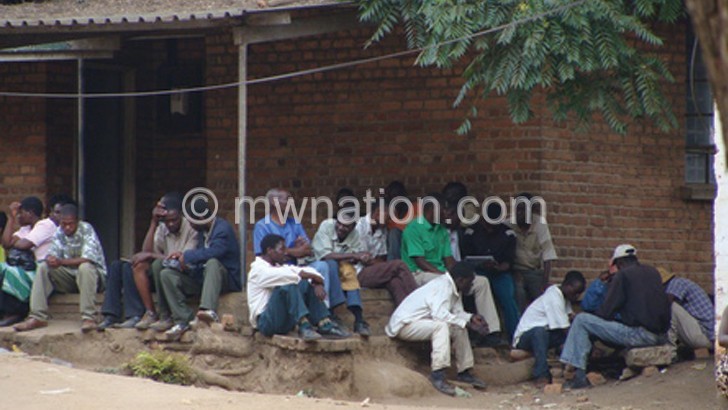 Govt job figures draw mixed views
New Ministry of Labour data on jobs has drawn mixed views, with employers and the industry questioning the methodology used to arrive at the figures in the absence of proper employment tracking systems.
The ministry this week published figures which show that in the first half of this fiscal year, 12 763 jobs were created in the formal sector of the economy, which has 11 percent of the share of employment.
Job seekers captured at the Labour Office in Limbe
On other hand, the informal sector created 112 006 jobs, representing 89 percent of the share of employment, according to the report.
The data drawn from a sample of 451 institutions in both public and private sectors, however, shows that 761 jobs were lost in the period with females accounting for 427 job losses more than males at 334.
But Employers Consultative Association of Malawi executive director George Khaki yesterday questioned the methodology and sources of information used in data collection and analysis.
He said: "What is disturbing is how they have arrived at those figures and the sample which might not reflect or give a true representation of employment statistics in the country.
"A fully operational labour market information system is critical in making employment statistics credible."
Khaki said the job creation efforts were frustrated in the review period due to the harsh economic environment characterised by high inflation rate which has heightened the cost of living crisis.
He said: "We were, among other things, faced with the rising inflation which had affected aggregate demand for goods and services. This was also compounded by the devaluation of the kwacha.
"On the other hand, we have foreign exchange shortages and power outages which had adverse effects on productivity and creation of jobs."
In his reaction yesterday, Malawi Confederation of Chambers of Commerce and Industry president Lekani Katandula said the publication of employment data in the absence of proper tracking systems gives little confidence in such data.
He said it is clear that Malawi Government does not have a system that consistently measures and reports on national employment statistics such as jobs created and jobs lost.
Katandula, who is also Illovo Sugar (Malawi) plc managing director, said: "This, therefore, makes it difficult to comment on any adhoc job statistics reports.
"One can hope that the National Statistical Office will sooner or later develop and implement systems for such stats to be reported on regularly and give confidence on any reported employment statistics."  
Economic statistician Alick Nyasulu said surveys may have some errors, but added provision of such data is a step in the right direction, stressing that quality of such data would get better with time.
He said: "I want to believe the ministry uses international practices tailored to our local situations.
"Nonetheless, policy should be directed towards moving the informal economy towards a formal economy which comes with secure and decent jobs while we invest in statistical systems to produce employment statistics regularly and in a timely fashion."
According to the brief contained in the Ministry of Labour report, the study targeted workplaces in public and private sectors where questionnaires were administered to various employers.
The ministry indicated that the limitation of the study was that the sample size was small and a major challenge which affected the study is mobility as many workplaces could not be followed up.
According to the data, in terms of distribution of jobs created by the economic sector, the data shows that administrative and support activities at 80 percent accounted for the highest jobs created in the period followed by education and agriculture at 5.5 percent and 5.04 percent, respectively.
The jobs in the administrative and support activities sectors, according to the ministry, were created in the public sector mainly by ministries, departments and agencies.
The Tonse Alliance government promised to create one million jobs in the first year of its administration, but two years down the line, unemployment and business opportunities have remained scarce.
Let us know what you think of this article and remember to add us on our facebook and follow us on our twitter. Come back daily for more Malawi business news.
Quick Links: Download Business eBooks | Ten Signs You Are An Entrepreneur | What is a Managing Director?
Latest posts by Vanessa Banda
(see all)