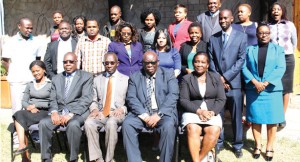 Grand competition body in the pipeline
The Tripartite Free Trade Area (TFTA), which was officially launched last month, is expected to establish a competition body to protect weaker economies from abuse that may arise from dominancy from stronger countries.
The discussions around the establishment of the body are expected to be held under phase II of the tripartite negotiations and shall also include discussions on trade in services, cooperation in trade and development, intellectual property rights and cross border investments.
The TFTA, which encompasses Africa's three regional trading blocs; the Common Market for Eastern and Southern Africa (Comesa), East African Community (EAC) and the Southern African Development Community (Sadc), encompasses 26 countries and is Africa's largest trading economic bloc.
Comesa Competition Commission (CCC), executive director, George Lipimile, said such a strong competition body will act as a tool to promote social inclusion and reduce inequalities.
He was speaking in Livingstone, Zambia, on the sidelines of a sensitisation workshop on regional competition regulation for business journalists from the Comesa region.
Lipimile said the purpose of competition law is to facilitate competitive markets so as to promote economic efficiency, thereby enhancing the welfare of communities.
''Compet i tion promotes innova tion as fir ms facing competitive rivals innovate more than monopolies. To achieve this goal, competition law must been enforced effectively,'' he said.
(Visited 6 times, 6 visits today)
Latest posts by Vanessa Banda
(see all)