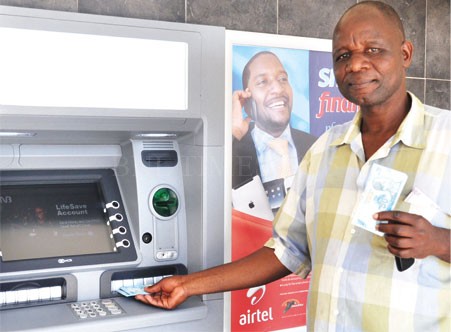 Guide on ATM use, security
It's hard to remember life without ATMs. We can now transfer funds, pay our utility bills and withdraw cash using an ATM. And they even dispense cash.
ATMs are electronic machines, which are operated by a customer himself to deposit or to withdraw cash from bank. For using an ATM, a customer has to obtain an ATM card from his bank. The ATM card is a plastic card, which is magnetically coded. It can be easily read by the machine.
To operate an ATM card, the customer has to inset the card in the machine. He has to enter the pass word or number. If the authentication or pass word (number) is correct, the ATM permits a customer to make entries for withdrawal or for deposit. On completion of the transaction, the customer's card is ejected from the ATM.
ATM advantages
ATM provides 24 hours service. ATMs provide service round the clock. The customer can withdraw cash up to a certain a limit during any time of the day or night. ATMs provide convenience to the customers. Now-a-days, ATMs are located at convenient places, such as at the air ports, railway stations, etc. and not necessarily at the bank's premises. It is to be noted that ATMs are installed off-site. ATMs provide mobility in banking services for withdrawal.
ATMs provide service without error. The customer can obtain exact amount. There is no human error as far as ATMs are concerned.
ATMs are of great help to travelers. They need not carry large amount of cash with them. They can withdraw cash from any city or state, across the country and even from outside the country with the help of ATM. The customer also gets brand new currency notes from ATMs. In other words, customers do not get soiled notes from ATMs.
Most of all, ATMs provide privacy in banking transactions of the customer.
Security tips
By following these simple precautions you can protect your savings and enjoy the security of knowing that your money is safe.
Never allow someone you are not familiar with to guide you through an ATM transaction or process –Any and all transactions or service registrations at ATM should be initiated by the customer and at his/her free will only.
Never hand your ATM card to a stranger for any reason and be extremely wary of anyone who approaches you when you are using an ATM.
Always shield the key pad with your hand when you are entering your PIN so that it cannot be read by secret cameras or strangers.
Use your body to block the view of people behind you from looking over your shoulder.
Use ATMs in places with good lighting and in very secure or high traffic areas at night.
Look out for 'extra' cameras in the ATM booth apart from the regular ATM security camera. Do not use an ATM if it has fittings above the machine such as a brochure holder as these may be used to conceal cameras.
Report any ATM that malfunctions or holds your card to the bank immediately.
Be cautious about withdrawing large amounts of cash at ATMs if you are alone or in an area where there is no security.
Be alert when you use an ATM. Don't let anyone distract you– complete your transaction, be sure you've tucked away your card and cash safely, and leave.–
LYNESS NKUNGULA
*Nkungula is Executive Director for the Banker s Association of Malawi
Latest posts by Vanessa Banda
(see all)