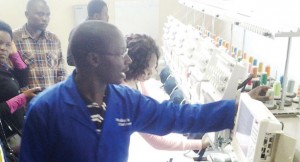 Hallmark Creations scoops global award
One of the multimedia companies, Hall mark Creations Limited, has been selected to receive the International Star for Quality (Isaq) for its outstanding delivery of quality printing solutions.
The award will be presented by the Business Initiative Directions (BID), a leading private organisation worldwide in spreading quality culture.
The award, to be presented in Geneva, Switzerland in September, is given in recognition of those companies or organisations in different countries throughout the world that further their reputation and position by implementing and promoting quality culture.
The award recognises and encourages the contribution of organisations and companies to quality, continuous improvement and customer satisfaction as well as improving relations with employees, suppliers and all those associated with winning organisations.
BID said in a statement the decision to present the award was a result of research and analysis carried out through quality hunters, leaders, entrepreneurs and experts in quality directed by BID, to recognise the contribution of Hallmark Creations Limited in terms of leadership, quality and excellence.
"The final decision to present the award in the Gold Category to Hallmark Creations Limited has been made by the Isaq Selection Committee on the basis of the critera of Total Quality Management Model," said BID Chief Executive Officer and President of Isaq, Jose Prieto.
Hallmark Creations chief executive officer, Timothy Nzima described the award as an honour.
"We are humbled by this award. In business just as in our personal lives, you cannot always get it right every time.
"But with this award, we are encouraged to think we sometimes get it right, even at a global platform. This award will encourage us to always seek quality and excellence in what we do," said Nzima
(Visited 27 times, 6 visits today)
Latest posts by Vanessa Banda
(see all)