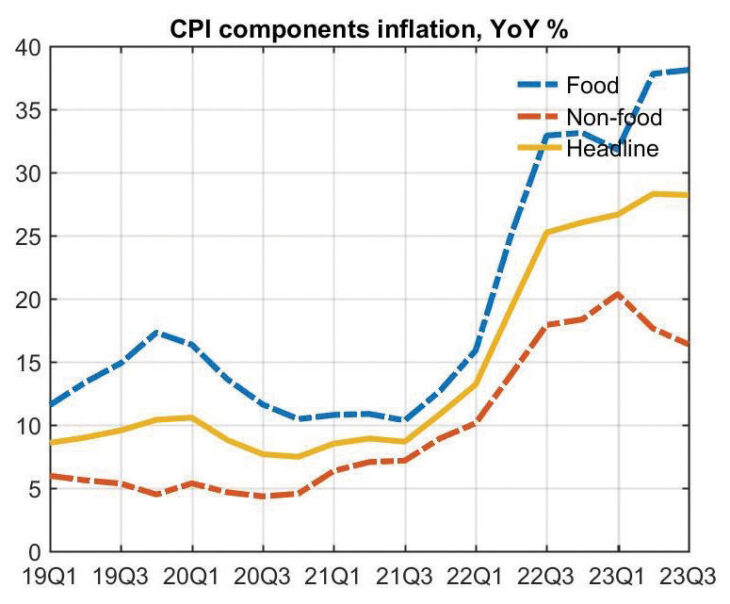 Headline inflation eases, experts see it rising again – The Times Group
Economists and consumer rights activists have predicted a continued rocketing in headline inflation—the rate at which commodity prices change at a given period in an economy—in the aftermath of the 44 percent devaluation of the local unit, the Kwacha.
The forecast comes after the headline inflation eased in October to 26.9 percent from 27.8 percent recorded in September 2023.
According to the National Statistical Office (NSO), the reduced inflation rate is on account of reduced food inflation which stood at 34.5 percent during the review period from 36.8 percent in the preceding month.
Non-food inflation rose, albeit marginally to 17.6 percent from 17.2 percent in September.
"The national month-to-month inflation rate for October 2023 stands at 3.3 percent. Food inflation rate is at 4.5 percent while non-food inflation rate is at 1.7 percent," reads a communication from NSO.
Reacting in an interview, Economics Association of Malawi President Betchani Tchereni said the ease in inflationary pressure in October was expected as food inflation eased.
He said going forward, imported inflation is expected to be higher coupled with expected higher food inflation.
"The headline inflation, therefore, is expected to rise Inflation numbers for the month of November will be expected to be a little higher," Tchereni said.
Economist Edward Chilima said the country should not expect stability in inflation trends as commodity prices continue to rise.
Chilima was, however, optimistic that inflows of donor aid and budgetary support may lessen the pressure, especially with social support interventions in place.
"I see the pressure increasing until possibly in the next three to four months when the economy will have fully absorbed the devaluation effects," Chilima said.
John Kapito
Consumers Association of Malawi Executive Director John Kapito said the recent 44 percent devaluation of the Kwacha would exert pressure and lead to continued rise in commodity prices.
"Government should therefore be cautious in dealing with the inflation because a lot of cushioning by providing money to people may also result in higher inflation because there will be a lot of money on the market chasing few goods," Kapito said.
Inflation has been on an upward spiral in the past 24 months.
In its latest Monetary Policy Committee (MPC) report, the Reserve Bank of Malawi said upside risks to inflation remain, largely arising from continued pass-through of exchange rate depreciation to domestic prices, owing to the protracted foreign exchange supply challenges.
It added that consistent with the aforementioned factors, the 2023 headline inflation is projected at 28.2 percent, about 1.3 percentage points lower than the 29.5 percent forecast at the previous MPC meeting.
Let us know what you think of this article and remember to add us on our facebook and follow us on our twitter. Come back daily for more Malawi business news.
Quick Links: Download Business eBooks | Ten Signs You Are An Entrepreneur | What is a Managing Director?
Latest posts by Vanessa Banda
(see all)