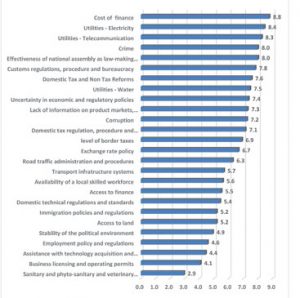 High cost of finance tops 2018 business obstacles
By Taonga Sabola:
A latest Malawi Business Climate Survey (MBCS) by the Malawi Confederation of Chambers of Commerce and Industry (MCCCI) has revealed that the cost of finance was the biggest challenge of doing business in Malawi in 2018.
The revelation comes barely a few weeks after Parliament pended the Interest Rate Capping Bill aimed at limiting the amount of interest borrowers could pay on loans.
The survey, released at the weekend, shows that the cost of finance recorded a score of 8.8 points out of 10.
The development comes at a time Malawi is said to have the highest interest rates in the region, despite attempts to lower the cost of borrowing in recent years.
The survey says the reduction in lending rates which continued in 2018 was not significant enough to trigger increased private sector borrowing since the rate remains very high.
With policy rate of 16 percent which has been maintained since November 2017, base lending rates hovered around 24 percent in 2018.
"Malawi lacks a variety of financial instruments especially long-term financial instruments which can help make available affordable capital for investment.

"Businesses are still expectant of better interest rates with the establishment of the Malawi Agricultural and Industrial Investment Corporation," survey results read.
Speaking during a Monetary Policy Conference in November, Finance, Economic Planning and Development Minister, Goodall Gondwe, admitted that high interest rates were hindering the country's economic growth.
"We have reached a stage where all of us should be thinking in terms of how we are going to grow the economy, eliminate poverty and how we are going to make fellow citizens that are exceedingly poor get out of this situation and enjoy their lives in Malawi. This will very much be dependent on ideas of a number of people on how we are going to do it," Gondwe said.
But Bankers Association of Malawi (Bam) President, Paul Guta, said at the conference checking excessive government borrowing could help tame the prevailing high costs of borrowing on the market.
Second on the list of top business hurdles in 2018 is unreliable electricity, with a score of 8.4 points.
The chamber says, during 2018, generation capacity was consistently managed with less than 200MW of available water supply in the Shire River. It adds that manufacturing companies continue to struggle with production capacity since they are forced to halt production at least two to three times a week due to load shedding.
"Businesses have also expressed low improvements in terms of time taken for new electricity connection and higher costs without additional power supply.
"Businesses have high expectations of power supply as more players have shown interest to generate power using renewable resources particularly solar. Malawi has also successfully finalised implementation of the US Millennium Challenge Account support project in 2018 which has improved the electricity backbone infrastructure," the survey says.
It adds that the continuous high rating of electricity among challenges of doing business in Malawi reflects lack of seriousness by authorities to support this sector with timely interventions.
Among other things, the chamber says most interventions such as the Kammwamba Coal Fired Plant, and Malawi – Mozambique Interconnector are missing deadlines.
Poor telecommunications services rank third on the list of doing business in 2018.
The survey says businesses continued to experience many telecommunication hiccups coupled with high charges.
"A number of issues have emerged which makes service provision a challenge. The supply side of the services is also affected by several factors such as fibre coverage, less per capita income in Malawi, pricing and legal framework. The legal framework is governed by Malawi Communications Regulatory Authority (Macra) which focusses more on revenue than cost.

"The taxation framework is less friendly and the Macra levy is based on gross revenue. On the other hand, telecommunication providers are not coping with changing demands by the populace such as increased use of mobile phones for a variety of services," the survey says.
Fourth on the list of business obstacles in 2018 is crime with a rating of eight points out of 10.
Other challenges are effectiveness of the National Assembly as a law-making institution, customs regulations, procedure and bureaucracy, among others
Latest posts by Vanessa Banda
(see all)