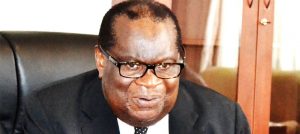 'High interest rates choking economy'
By Matilda Chimwaza:
Minister of Finance, Economic Planning and Development, Goodall Gondwe, has said high interest rates are hindering economic growth in the country.
Gondwe said this in Mangochi District on Tuesday when he officially opened the Monetary Policy Conference which the Reserve Bank of Malawi (RBM) organised.
"We have reached a stage where all of us should be thinking in terms of how we are going to grow the economy, eliminate poverty and how we are going to make fellow citizens that are exceedingly poor get out of this situation and enjoy their lives in Malawi.

"This will very much dependent on ideas of a number of people," Gondwe said.
The local Chancellor of the Exchequer said the conference, which was held under the theme 'Persistence of High Interest Rates in Malawi', was about looking at how the country will shape interest rates in a way that encourages economic development and growth.
He hoped that, in the course of next year, the country would be having low interest rates to generate enough investments so that it can grow its capital.
Among other things, high interest rates have been cited as one of the deterrents of private sector investment in Malawi.
The conference has come at a time Parliament is drafting an Interest Capping Bill to be tabled in the next sitting of the House.
RBM Governor, Dalitso Kabambe, admitted that interest rates have been high in the country.
He said interest rate capping is not a new phenomenon in Malawi, saying, until 1987, RBM was setting a cap on interest rates.
"The exchange rate too was fixed. The same was also true with many other sectors of the economy.

"Of course, since the 1970's, 80's till to date, the country has been going through reforms some of which were supported by the Breton Woods Institutions and to a larger extent, these reforms took the form of liberalising the economy making it a more open economy with no price controls and restrictions," Kabambe said.
He said, specifically for the financial sector, in 1988, RBM stopped capping interest rates allowing commercial banks to set their own rates.
"The exchange rate was also liberalised moving from fixed to flexible exchange rate in 2012. Many countries have also gone the same way and the paradigm shift is well reflected in economic theory and practice.

"However, there are instances countries have gone contrary to economic theory and principles, hence the current debate is whether Malawi should revert to the pre 1987 era of capping interest rates," Kabambe said.
Ecama President, Chikumbutso Kalilombe, said the country should admit that there is a problem of high interest rates.
"The first step is recognising that we have problem and then we can tackle it. There are several views that have come up in Malawi; people who are affected by interest rates and people who are involved in policy formulation have had solutions proposed and I think this conference now comes in to try and make those views congregate together and look for a way forward," Kalilombe said.
The major problem, Kalilombe said, is related to the economy.
He also said, in the face of high interest rates, the country loses out.
"In the face of high interest rates, you lose out on actual investments because [one] would prefer to invest in monetary instruments instead of investing in actual development projects that would have benefited you and me," Kalilombe said.
The high-level conference attracted financial and economic experts from the public and private sectors, the academia, cooperating partners as well as central bank governors from Zambia and Kenya.
Latest posts by Vanessa Banda
(see all)