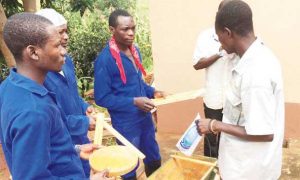 Honey producers exchange skills | The Times Group
The Small and Medium Enterprises Development Institute (Smedi) this week facilitated an exchange visit among honey producers in the country to share ideas on how to promote the sector.
The tour included Ngoni Honey Cooperative (Salima), Chiluwa Honey Cooperative (Salima) and Uwanji Honey Farmers Association (Nkhata Bay) who toured the Northern Honey Processors and Tapika Natural Honey in Mzuzu.
Smedi Publicist, Mian Mpesi, said the enterprises acquired technical aspects of honey processing since mentors stressed on observing hygiene and proper labelling of the finished product in accordance with the Malawi Bureau of Standards (MBS).
"We will continue to facilitate exchange visits for MSMEs in different sectors to enhance learning if indeed such entities are to meaningfully contribute to the economic growth of our country.
"Furthermore, Smedi continues to promote MSMEs to add value to their products and ensure certification of their products for them to fetch high prices on the market.
"High standards will also enable the MSMEs the ability to acquire local and international markets," she said.
Mpesi said honey is usually harvested twice a year and one beehive produces an average of fifty 250 millilitres bottles of honey. "This at the market price costs an average of K1, 200."
She also said Smedi has incorporated a strategy of encouraging MSMEs to engage in businesses that embrace the triple bottom line approach (economic, social and environmental aspects).
"Bee keeping therefore not only enables MSMEs obtain the economic muscle, but at the same time its production discourages deforestation but rather encourages afforestation to provide a good environment for the bees to live and build their natural hives.
At the same time honey is a product which has a number of health benefits it addresses which helps to keep the doctors at bay," said Mpesi.
Chiluwa Honey Cooperative Chairperson, Maganizo Mayenje, said the exchange visit helped them improve activities as a cooperative.
(Visited 15 times, 15 visits today)
Latest posts by Vanessa Banda
(see all)