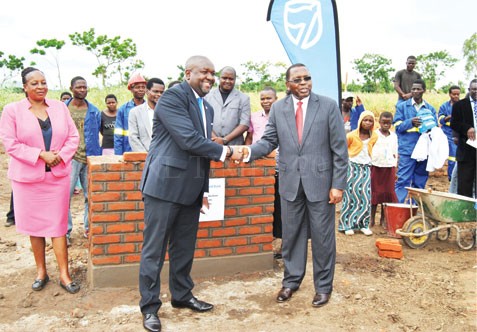 Honoured with new school – BNL Times
Honoured with new school
Standard Bank has started constructing a new school at Che January village in Sub-Chief Onga's area in Chiradzulu in honour of its former board chairperson, Alex Chitsime, who comes from the area.
Two school blocks with a total of four classrooms are being constructed at the green field site at a cost of K31 million.
Standard Bank Chief Executive Officer, Andrew Mashanda, said during the ground breaking ceremony for the project on Thursday last week that they decided to construct the two school blocks on honour of their retired chairperson because of his contribution to the bank during 10 years of his service.
"He took over the bank when it dropped to number four in terms profitability in the country. He took it to number one in 2012," said Mashanda said.
Mashanda said when he retired last year, Chitsime chose a school project in his area when the bank asked him what they could do in honour of his legacy.
On his part, Chitsime said the project is important in the area because children walk long distance to go to the nearest school.
"Once this project is completed, children will be encouraged to go to school as they will no longer have to walk long distances," said Chitsime.
Latest posts by Vanessa Banda
(see all)