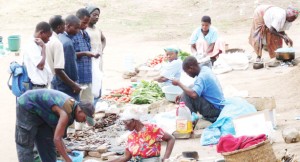 Ibam revives black empowerment lobby
The Indigenous Businesses Association of Malawi (Ibam) has once again asked government to consider implementing black economic empowerment policies as the South African government has done to allow more Malawians participate in the country's development agenda.
Ibam president Mike Mlombwa said South Africa is currently implementing Broad -Based Black Economic Empowerment (B-BBEE) initiatives intended to bring about the involvement of previously disadvantaged communities into the mainstream economy.
Mlombwa said South Africa is using the initiative as a tool of increasing the number of disadvantaged communities who manage, own and control businesses in addition to facilitating the ownership and management of such businesses by communities.
"Such an initiative would boost human resource and skills development in addition to achieving equitable representation in all categories and levels of the workforce.
"The B-BBEE also seeks to promote preferential procurement which would involve the purchase of goods and services with a strong B-BBEE score as well as encouraging investment in enterprises that are owned by disadvantaged communities." he said.
Mlombwa underscored the need for Capital Hill to implement similar deliberate strategies that would help indigenous businesses play a role in economic development.
"Currently, despite being the owners of the land, Malawians rarely play a significant role in the economy because they are not empowered.
"We need to appreciate that America was developed by Americans, Japan by the Japanese, China by the Chinese people and Malawi will only be developed by Malawians," said Mlombwa.
He said Malawi needs a clear policy which spells out the need for local participation in any enterprise.
"Again, here we have seen that government plays an important role in supporting struggling enterprises," said Mlombwa.
Currently, there are no clearly defined regulations in Malawi that guide the amount of shareholding to be held by locals for every foreign direct investment coming into the country.
In recent years, lobby groups such as Ibam and the Economic Empowerment Action Group have been pressing government to pass the local empowerment policy which they believe will help change the economic fortunes of indigenous Malawians for the better.
(Visited 7 times, 7 visits today)
Latest posts by Vanessa Banda
(see all)