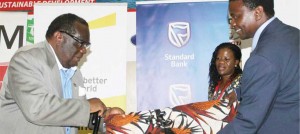 Icam faults economic development strides
The Institute of Chartered Accountants in Malawi (Icam), an umbrella body for accounting professionals, has faulted development strides taken by Malawi in the recent years, rating them as retrogressive.
Icam says the endeavor towards economic development has been slow as limited efforts and resource are invested therein.
Icam immediate past president, Chiwemi Chihana, made the observation in Mangochi at the weekend at the opening of the 2016 Icam Lakeshore Conference in Mangochi held under the theme "Strengthening Governance and Accountability for Sustainable Development".
The indaba was graced by Minister of Finance, Economic Planning and Development, Goodall Gondwe.
Chihana said amid the various development blueprints crafted and adopted, Malawi still lags behind in attaining its development goals due to poor governance and lack of accountability.
"With the closing of the MGDS [Malawi Growth and Development Strategy] II this year, almost 10 years since the adoption, aren't we at exactly the same place and maybe worse," wondered Chihana.
He noted that over the years Malawi has formulated various development agendas whose fruit is yet to be traced.
He made mention of National Plan of Action, whose total budget was K2.3 billion, the Vision 2020 and the MGDS I and II whose common objective was to reduce poverty through sustained economic growth and infrastructure development as failed plans.
Chihana then said the successful implementation of the country's development strategy depends on the prevalence of good governance.
"Icam shares the view that strengthening governance and accountability will be key to delivering the sustainable development goals," observed Chihana.
In his address, Gondwe said the nation has, however, attained substantial growth of late despite the concerns raised.
He said comparatively, there has been both individual and collective development strides, evidenced by the change in the socio-economic well being of a majority Malawians.
"I have the confidence that Malawians can and will make it. I stand from a different position unlike where a number of people would think that in fact Malawi has not done very well, we have come a long way We have moved distances," said Gondwe.
Malawi ranks among the poorest countries in the world.
(Visited 1 times, 1 visits today)
Latest posts by Vanessa Banda
(see all)