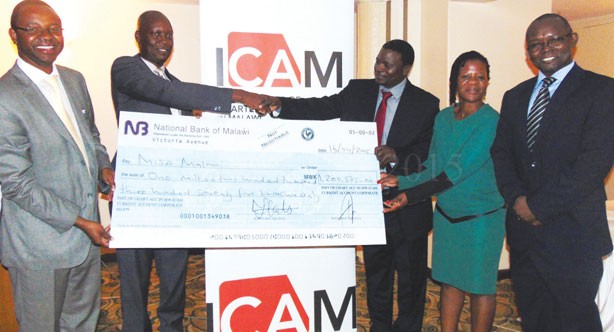 Icam, Misa award to honour Mazengera
Icam, Misa award to honour Mazengera
The Media Institute of Southern Africa (Misa-Malawi) and the Institute of Chartered Accountants in Malawi have launched a new financial reporting award for business journalists in honour of the late chief executive officer of ICAM Hennox Mazengera.
The award was launched during a cocktail reception in Blantyre last Thursday and will become part of Misa-Malawi awards presented during World Press Freedom Day celebrations in May every year.
ICAM president Chiwemi Chihana said the institute decided to come up with the award in honour of Mazengera because of the passion he had for the media.
"Mazengera loved the media. Among other things, he started and championed the Socam Business Journalists Award which we [as Society of Accountants in Malawi –
Socam] used to give to journalists every year since 2009," said Chihana.
He said the Socam award has now been changed to Hennox Mazengera Bes t Financial Reporting Award and will now be administered by Misa-Malawi alongside their other awards.
On his part, Misa-Malawi chairperson, Thom Khanje, thanked ICAM for entrusting Misa-Malawi with the award, saying it will go a long way in the improvement of financial journalism in Malawi.
"The good thing with the Hennox Mazengera Award is that it has been attached to training. We are discussing with ICAM so that they should sponsor a training workshop for business journalists every year to build capacity in financial journalism," said Khanje.
Latest posts by Vanessa Banda
(see all)