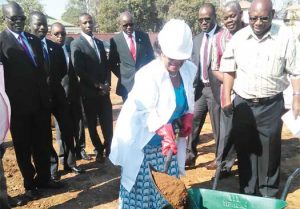 Icam to construct K1.6 billion complex
The Institute of Chartered Accountants in Malawi (Icam) has launched a K1.6 billion Mandala office complex to be built in 22 months.
The groundbreaking ceremony of the project took place on Friday.
Icam President, Henry Chowawa, said through the office complex, Icam would like to enhance the accountancy profession.
"This building is a symbol of strength which will help enhance the accountancy profession," Chowawa said.
He further said the state-of-the-art building will change the outlook of Blantyre City.
Chowawa said funds for the project were raised through member contributions.
Minister of Lands, Anna Kachikho, commended Icam for the spirit of self-reliance.
"There are a number of lessons that we Malawians need to learn from you. Let me commend you for showing the spirit of self-reliance. If we all embrace this spirit of hard work and the spirit to build on what we have, then surely we will stop to depend on donations.
"This self-help spirit is in line with the government's efforts of making the country self-reliant by using domestic resources," she said.
Kachikho also appealed to Icam to assist Capital Hill in closing all gaps in terms of financial management.
"My appeal to you is that you should remain the watchdog of our financial resources. I, therefore, urge you to keep on liasing with the government on matters of fiscal policy. We cannot afford a repeat of another Cashgate in the country," she said.
The complex will comprise a three-storey building to be constructed in three phases.
The first phase will comprise offices for the secretariat which will cost $1.1 million. The second phase will comprise offices that Icam intends to let out and will cost $284, 257 while the last phase will be the construction of a business centre and conference room which will cost Icam $611, 305.
(Visited 92 times, 92 visits today)
Latest posts by Vanessa Banda
(see all)