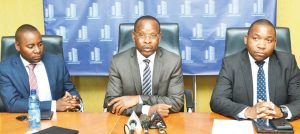 Icon IPO gets over subscribed
By Taonga Sabola:
Last month's initial public offer (IPO) by property ownership firm, Icon Properties, excited the market, resulting in an oversubscription of shares.
The firm has since raised the desired K14.7 billion through the exercise.
During the IPO, which opened on December 7 and closed on December 28, the firm offered 1.68 billion shares at a price of K8.75 per share.
Results of the IPO released Thursday revealed that the sale was oversubscribed by 56,186 shares.
The firm said all applicants were allotted all shares they applied for to the extent they compiled with the terms of the offer except for the portion of shares which were not in multiples of 1,000 as required by the prospectus.
Following the IPO, Icon shares are expected to be listed on the Malawi Stock Exchange on January 21.
Icon Properties Director, Vizenge Kumwenda, told journalists during the opening of the IPO that the firm would invest the funds raised into Iconic infrastructure.
"An IPO is always a good opportunity to unlock the true value of a company, while at the same time giving investors an opportunity to make a decent return," Kumwenda said.
Icon Properties was incorporated in Malawi on June 4, 2018 and converted to a public limited company on October 11.
Icon has 35 properties valued at K50.04 billion.
Some of its properties are the Chichiri Shopping Mall in Blantyre, Lilongwe City Mall, which houses Game Stores, and Kang'ombe House in Lilongwe.
Icon IPO came at a time the market has seen a continued growth of funds, especially from pensions and life insurance funds with limited avenues to invest them.
Speaking on the sidelines of the recent Economics Conference organised by the Economics Association of Malawi (Ecama) in November, Reserve Bank of Malawi (RBM) Governor, Dalitso Kabambe, said pension and life assurance funds hovered around K1 trillion, about half of which is invested on the stock market.
Kabambe said there is need for more companies to list on the stock market to help absorb the excess liquidity.
Latest posts by Vanessa Banda
(see all)