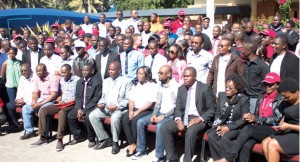 ICT at 50 conference exposes industry gaps
Information Technology professionals in the country were in Mangochi over the weekend for an industry seminar aimed at reviewing the performance of the sector over the past 50 years and map the way forward.
The conference, dubbed 'ICT at 50', attracted over two hundred ICT professionals from all parts of the country to review the sector and reshape the future.
The key resolution at the conference was a request to current executive members of the Information, Communications Technology Association of Malawi (Ictam) to meet and set a date for an annual general meeting where fresh elections should be held.
The conference was organised by a group of young ICT professionals and was largely sponsored by Sparc Systems Limited, one of the fastest growing companies in the sector.
Chairperson for the steering committee for the conference, Tupochile Mbilizi, said the ICT sector needs an active body that can represent and speak for sector in the country.
One of the top challenges cited during the conference was lack of an ICT policy to guide the development of the sector in the country.
Ictam acting president Maxi Phiri, said the operations of Ictam as a central governing body have been adhoc and disjointed owing to lacking of an ICT policy to regulate the sector.
Ictam was formed in the early 2000 but its operations have been characterised by inconsistency.
"We need an ICT policy that should guide the development of the ICT sector," said Phiri.
On his part, Sparc Systems managing director, Wisely Phiri, deplored the gaps that are hindering the development of the ICT sector.
"There have been many issues in Malawi that touched on the ICT sector such as cashgate. Everyone was busy blaming computers and softwares but there was no voice from the ICT sector. We want to revamp the sector and start engaging government in a number of issues," said Phiri.
Malawi Communications Regulatory Authority (Macra) deputy director general, Francis Bisika – who was guest of honour at the conference, challenged ICT professionals to discuss ways of dealing with the issue of cyber security.
"ICT has now become a global issues and with it comes the issue of cyber-attacks and security. I want this group to focus on this because once we are attacked, all our efforts become fruitless," said Bisika.
Latest posts by Vanessa Banda
(see all)