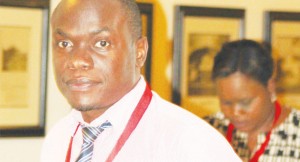 ICT expert calls for policy improvement
Information Communication and Technology (ICT) expert Wisley Phiri has said Malawi needs to change its policies and allow the empowerment of locals within the ICT sector.
Phiri, who is managing director of Sparc Systems, said in other countries foreigners are allowed to own 20 percent of a contract with the rest to be owned by locals.
He said if locals are empowered, they will be able to repair works that have been done by foreigners, thereby cutting expenses.
"ICT policies are very weak here in Malawi. If we go outside the country, we are asked to have a minimum of 20 percent of the contract with the rest going to the local companies. This is what is lacking in the country. We need those policies to empower local companies," said Phiri.
He said most companies in the country lack infrastructure investment hence most of the time they do not have backup systems.
"We have been in this industry for some time and mostly if you look at the companies, they do not invest much in infrastructure to have disaster recovery solutions. Companies do not concentrate much on investment.
"Network is expensive in Malawi and companies prefer to use one line. In ICT you need to have a backup plan, so that when one network is down the other is up," he said.
Phiri said in ICT companies should not be waiting for disasters to happen but rather invest to prevent disasters.
"As Sparc, we help companies in cutting costs in their ICT investment. There is a need for highly available systems. We don't have to look at budgets alone but also the reaction of our customers. If the system goes down, how will the customer react? It is easy to lose customers in such a way," said Phiri.
He further urged companies or ICT service providers to offer competition and provide different high technologies that would spur growth and quality services in companies.
(Visited 33 times, 33 visits today)
Latest posts by Vanessa Banda
(see all)