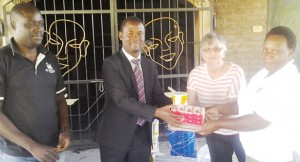 IIA says auditing is not accounting
The Institute of Internal Auditors Malawi (IIA Malawi) says auditing a specialised field on its own and that being an accountant does not necessarily qualify one to be an auditor.
IIA Malawi Vice President Paul Nyirenda said there are people that have never studied accounting but have become very good auditors.
He was speaking on Saturday at Chombo Village in Blantyre when the internal auditors donated assorted items to an orphanage as part of the Internal Audit Awareness Month which falls in the month of May.
The items included milk, orange squash, petroleum jerry, plastic buckets and toilet tissues.
Nyirenda said it is important for auditing professionals to specialise in audit by acquiring certifications in internal auditing provided by IIA Global.
He said the Bachelor of Internal Auditing degree being offered in the country also provides a good foundation for internal auditing professionals.
He said the focus of internal auditing goes beyond financial statements but also looks at other areas such as governance, risk management and internal controls in an organisation.
Nyirenda noted that in view of the value that internal auditors add to organizations, it is recommended that organizations that do not have internal audit functions to consider establishing one.
"Even churches should have an internal auditor because some churches undertake huge projects and there is need to enhance credibility and governance in the administration. In that respect, the internal audit function would add value," he said.
As part of the celebrations, internal auditors in the Central Region donated assorted items at Malingunde School for the Blind while those in the north donated to the Pediatric Ward at Mzuzu Hospital.
Blantyre District Social Welfare Officer Throphina Limbani thanked IIA Malawi for the donation.
Latest posts by Vanessa Banda
(see all)