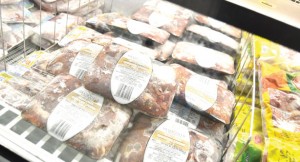 Illegally imported chickens in stores
Some major retail shops in Lilongwe and other parts of the country are selling various types of imported dressed chickens which are being illegally imported into the country.
This is because the Ministry of Industry and Trade says it has not issued any licence for the importation of dressed chickens into the country as required by law.
A visit to some shops in Lilongwe confirmed that several major retail shops in the capital city had stocks of dressed chickens and chicken parts with their packaging indicating that they had come mainly from South Africa and Brazil.
The Poultry Industry Association of Malawi has since cried foul over the development and has asked the Malawi Revenue Authority to curb the malpractice.
Poultry Industry Association of Malawi technical advisor, James Chuma, said the importation has been going on for while and wondered why the Ministry of Industry and Trade and MRA were not doing anything about it.
"As far as we are concerned, this is illegal," said Chuma.
Ministry of Industry and Trade spokesperson, Wiskes Nkombezi, was surprised that some shops were selling imported dressed chickens, saying that would be illegal since the ministry has not issued any import licences for dressed chickens.
"If there are chickens in the shops then whoever is importing them are doing it illegally," said Nkombezi said.
He said the controls are intended to control the importation of animal products with diseases hence even the Veterinary Department is supposed to be involved.
He promised that the Ministry will undertake inspections and bring to book the illegal importers.
According to Chuma, the association has 45 member companies with a chicken count of 132 million and that they are producing enough chickens and eggs to meet local demand to the extent where they are even able to export to Mozambique.
He said in 2014 alone, the local companies managed to export 10,000 tonnes of dressed chickens and over 280 000 cases of eggs.
(Visited 1 times, 1 visits today)
Latest posts by Vanessa Banda
(see all)