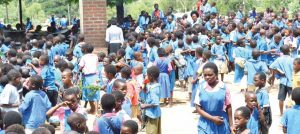 Illicit transfers draining Africa | The Times Group
New study released by the Global Financial Integrity (GFI), a Washington-based research and advocacy organisation, shows that sub-Saharan Africa continues to lose a lot of money to Illicit Financial Flows (IFFs) every year.
Illicit financial flows are also described as the illegal movement of money across borders and the African Union Economic Commission a few years earlier found that Malawi is losing about 16 percent of its Gross Domestic Product to illicit financial flows every year.
GFI already listed Malawi among countries that would face challenges in implementing the newly adopted sustainable development goals due to the challenge of illicit capital flight.
In 2014, IFFS in developing countries drained between $620 to $970 billion and GFI on Monday said the hearmohage of funds has remained persistently high at nearly $1 trillion.
According to findings of the study, sub-Saharan Africa still suffers largest illicit outflows as a percentage of Gross Domestic Product ranging from 5.3 percent to 9.9 percent of total trade in 2014, a ratio higher than any other geographic region studied.
To conduct the study, GFI analysed discrepancies in bilateral trade statistics and balance of payments data as reported to the International Monetary Fund in order to detect flows of capital that are illegally earned, transferred or utilised.
Among others, GFI found that an average of 87 percent of illicit financial outflows over the 2005-2014 period were due to the fraudulent misinvoicing of trade while total illicit financial flows (outflows plus inflows) grew at an average rate of between 8.5 percent and 10.1 percent a year over the ten-year period.
Titled Illicit Financial Flows to and from Developing Countries: 2005-2014 the report is the first global study at GFI to equally emphasize illicit outflows and inflows.
Each is found to have remained persistently high over the period between 2005 and 2014.
Combined, these outflows and inflows are estimated to account for between 14.1 and 24.0 percent of developing country trade, on average.
"The order of magnitude of these estimates, much more so than their exactitude, warrants serious attention in both the developing countries and the wealthier world," GFI President Raymond Baker, a long time authority on financial opacity, is quoted as saying.
Among other policy recommendations, GFI has called on governments to establish public registries of verified beneficial ownership information on all legal entities, and that all banks should know the true beneficial owner of any account in their financial institution.
"Government authorities should adopt and fully implement all of the Financial Action Task Force's (FATF) anti-money laundering recommendations; laws already in place should be strongly enforced.
"Policymakers should require multinational companies to publicly disclose their revenues, profits, losses, sales, taxes paid, subsidiaries, and staff levels on a country-by-country basis," the statement said.
(Visited 9 times, 9 visits today)
Latest posts by Vanessa Banda
(see all)