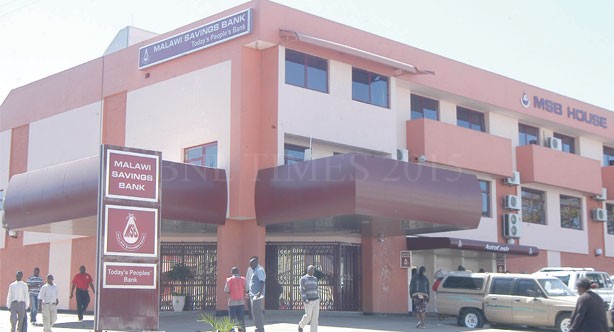 IMF, Bam support MSB sale
As the Public private Partnership Commission (PPPC) is busy processing tender documents for the sale of 100 percent government shares in the much-talked about Malawi Savings Bank (MSB) amidst resistance from other quarters, the decision continues to receive support from other influential bodies.
The latest calls come from the International Monetary Fund (IMF) and the Bankers Association of Malawi (Bam) who have thrown their full support on the sale of the ailing bank, saying the move is the only road to preserving the government's net asset position as well as increasing efficiency.
IMF resident representative Geoffrey Oestreicher told The Daily Times that given the current financial performance of MSB which, he said, has lagged that of the privately owned, there are arguments to be made on economic grounds about the sale of the entity, and according to him, international experience has shown that private ownership tends to be more effective.
Oeistrecher said a more efficient and competitive financial sector lowers overall costs paid by people for financial services and benefits everyone.
He warned that if the ownership structure of the bank remains unchanged and the bank continues to underperform, the situation could lead to fiscal losses for government that would need to be paid for using public money.
"And as everyone knows, public money is scarce at this juncture," noted the IMF country representative Oeistrecher said from a public policy perspective, the purpose of a bank is to provide financial services to the public in an efficient and low-cost manner therefore it is for the Malawi authority to determine whether this objective can best be achieved through public or private ownership.
He said if the government of Malawi ensures that the sale of the bank does not have an impact on its balance sheet, it may not incur losses considering that the entity will be sold at a cost that is equivalent to its current value.
Bam president Misheck Esau said there are other entities that are not forwarding any dividends to the government and could have best performed if privatised.
Esau also gave an example of some companies that were privatised such as Standard Bank, Nedbank, NBS bank, Bakhresa, Mapeto as well as Mpico that have registered a flourished turnover.
The Bam President expressed optimism that when MSB is taken into private ownership, branches and agencies that the bank had throughout the country will be closed, brushing off fears that other quarters had on the sale of the bank.
Latest posts by Vanessa Banda
(see all)