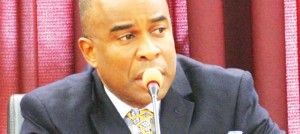 IMF okays K35bn maize imports
The International Monetary Fund (IMF) has authorised government to use part of its $78.6million (K56.3 billion) extended credit facility to purchase maize.
The move comes at a time when over 6.5 million Malawians are facing food shortages following El Nino-induced drought that has ravaged the country.
"The negative impact of the El Niño-induced drought continues to weigh heavily on economic activity and has placed an estimated 6.5 million people at risk of food insecurity," a statement by an IMF official Oral Williams reads in part.
The statement adds: "In response to the humanitarian crisis, the Executive Board of the IMF approved the disbursement of $78.6 million. Of this, $49.2 million (K35 billion) was explicitly intended to help the Malawian government finance imports of maize as part of the donor-coordinated humanitarian relief effort."
The statement follows a visit last week by an IMF team led by Williams which conducted discussions on the ninth review under the ECF arrangement.
The ECF, which in case of Malawi is pegged at $ 144.4 million, is a lending arrangement that provides sustained programme engagement over the medium-to long-term in case of protracted balance of payments problems.
Williams explained that Malawi requires additional resources to fully fund its Food Insecurity Response Plan.
On its part, Malawi has allocated about $49 million for maize purchases in the 2016/17 budget.
The country's agro-based economy is currently sailing in troubled waters due to poor harvests of its main staple food maize and low prices of its key export tobacco.
In its statement, the IMF has noted that the country's economic growth has declined for a second consecutive year, reflecting sharp falls in agricultural production and electricity generation, and weak growth in credit to the private sector.
According to IMF, Malawi's economic turbulence is being reflected in a number of indicators including worsening public debt, "which has now risen from 40 percent of GDP in 2012 to 58 percent of GDP in 2016."
Another Breton Wood institution, the World Bank, in July this year warned Malawians to brace for tough economic ride as hunger would make attainment of economic stability challenging.
The global lender predicted that Malawi economy would grow by around 2.6 percent contrary to government's forecasted estimate of 5.1 percent.
"This year has been tough because of the drought and it is coming at the back of the floods, so it's a very difficult time," observed World Bank Country Representative, Laura Kullenberg
(Visited 20 times, 20 visits today)
Latest posts by Vanessa Banda
(see all)