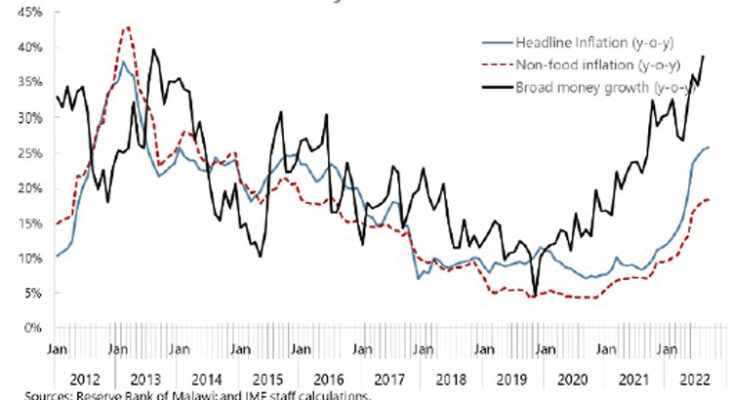 IMF projects 2022 Inflation at 26%
The International Monetary Fund (IMF) has projected that Malawi's 2022 annual inflation rate will average 26 percent due to the rising fuel, food, and fertiliser prices in the year as well as depreciation of the kwacha.
The projection is 4.5 percentage points above the Reserve Bank of Malawi (RBM) projection for this year at 21.5 percent, but lower than the current inflation rate at 26.7 percent.
The IMF, in a country report for Malawi published on Wednesday, underscored the need for the central bank to ensure that reserve money growth will be kept in line with projected nominal gross domestic product (GDP) growth and the policy rate is adjusted to keep inflation at a minimal.
Catholic University of Malawi economics lecturer Hopkins Kawaye observed that inflation may even rise further on account of imported inflation as well as domestic factors.
He said: "Inflation rise is now inevitable largely as a result of low harvest from last season plus consequences of devaluation and foreign exchange shortages.
"This affects Malawians who cannot afford to increase their expenditure in view of the rising commodity prices. Instead, they will have to cut expenses, thus increasing poverty levels."
Economic statistician Alick Nyasulu observed in an interview that the rising inflation is a worrying development which calls for a reflection on policy issues.
Over the past 10 months, to October 2022, Malawi's inflation rate has averaged 20 percent.
In the period, prices of food have been on the rise, with retail maize prices increasing by five percent to average K412 per kilogramme (kg) in October.
Maize, as part of the food component, contributes about 53.7 percent in the Consumer Price Index, a measure of price changes in a basket of constant quantity and quality of goods and service NSO uses to compute inflation.
Global oil prices have also been on the rise with Brent crude oil recorded $85.17 (K87 275.54) a barrel in recent weeks.
These global developments compelled the Malawi Energy Regulatory Authority to raise fuel pump prices.
Effectively, petrol is now selling at K1746 per litre, diesel at K1920 per litre and paraffin at K1261 per litre.
Fertiliser prices, on the other hand, have also been on the rise, a situation that could have a direct impact on maize production and food prices.
RBM Governor Wilson Banda is quoted as saying in the fourth Monetary Policy Committee Statement that inflation outlook points to heightening of inflationary pressures.
He said the central bank now has no choice but to tighten its monetary policy stance, adding that RBM is committed to maintaining the real interest rate below the growth rate to support growth
Let us know what you think of this article and remember to add us on our facebook and follow us on our twitter. Come back daily for more Malawi business news.
Quick Links: Download Business eBooks | Ten Signs You Are An Entrepreneur | What is a Managing Director?
Latest posts by Vanessa Banda
(see all)