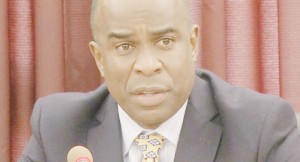 IMF reduces Malawi growth outlook to 3%
The International Monetary Fund (IMF) is very pessimistic about Malawi's economic future and is now projecting the economy to grow by just 3 percent in 2015, down from over 7 percent as earlier estimated.
Washington DC-based IMF Malawi mission chief, Oral Williams, said on Wednesday in Lilongwe that it is doubtful that the Malawi government will be able to repair the economy and put it on high growth path by the start of next year.
"I'm a little more cautious because Malawi is a price taker and global prices are expected to be a bit weaker," said Williams.
He said climatic challenges are also expected to affect agriculture, saying Malawi might experience a repeat of last season's rainfall patterns.
He appealed to the government to invest more in irrigation agriculture if it is to minimise the climatic effects on the economy and also to maximise production for exports.
Williams expressed worry with the low levels of exports from Malawi which he attributed to low productivity by the private sector, saying this will continue to put the country at a risky position.
He also expressed worry at the continued high level of inflation, saying "it has been too high for too long" and was hence eroding the real purchasing poor by Malawians.
Williams said the IMF team has discussed with Malawi's Finance Minister Goodall Gondwe possible ways of bringing down the inflation to single digits levels.
Gondwe said recently that government is working on measures that could start bearing fruits by next year.
He assured Malawians that the country would pass through the current challenges and asked people to be more productive and adjust to the situation.
"By the end of this financial year [June 2016], you'll be clapping hands for the government. But that will require you and me to work extra hard," said Gondwe.
(Visited 1 times, 1 visits today)
Latest posts by Vanessa Banda
(see all)