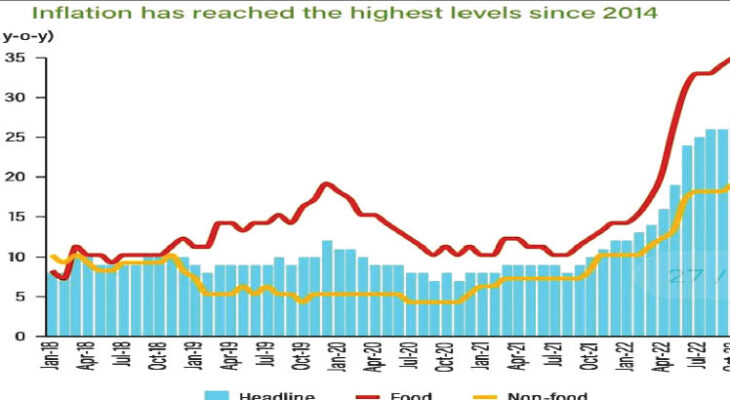 IMF tips on managing cost of living crisis
The International Monetary Fund (IMF) has urged fiscal authorities to target their support to vulnerable groups most affected by rising food and energy prices.
In its World Economic Outlook published on Monday, the multilateral financial institution said while priority remains achieving sustained disinflation or reduction of inflation in tackling the cost of living crisis, broad-based fiscal relief measures should be withdrawn.
Reads the outlook in part: "With tighter monetary conditions and lower growth potentially affecting financial and debt stability, it is necessary to deploy macro-prudential tools and strengthen debt restructuring frameworks."
The IMF said although the balance of risks remains tilted to the downside, adverse risks have eased.
"On the downside, severe health outcomes in China could hold back the recovery, Russia's war in Ukraine could escalate and tighter global financing conditions could worsen debt distress."
The IMF said Malawi has not been spared the largest cost of living crisis of the 21st  Century, which has come amid a limited capacity to cope.
Analysts say theRussia-Ukraine war has fuelled severe price shocks in food, energy and fertiliser, given the centrality of both the Russian Federation and Ukraine in these markets.
This, in turn, has rapidly constrained household budgets.
Driven by both food and non-food price pressures, Malawi's headline inflation has been on the rise, moving from 12.1 percent in January to 25.4 percent in December, according to National Statistical Office data.
Speaking in an interview yesterday, Centre for Social Concern economic governance officer Bernard Mphepo supported IMF recommendations and observed that the cost of living has gone up beyond manageability of most households.
He said: "We entirely agree with the recommendations of supporting vulnerable groups.
"This is in line with our report that revealed that the cost of food per household was over K209 000 in December 2022."
Mphepo suggested that the best approach would be to ensure the availability of food through Agricultural Development and Marketing Corporation (Admarc) markets at reasonable prices other than food distribution.
"However, it is also important to target distribution to only the most vulnerable households," he said.
Meanwhile, government has fired all Admarc staff pending restructuring.
The IMF observations come at a time the Malawi Government is grappling with public debt hovering at K7.3 trillion, making the country to be in debt distress. The fund also said that the ongoing implementation of the government's debt restructuring strategy means that debt is sustainable on a forward-looking basis.
World Bank data shows that public debt increased to 64 percent of the gross domestic product (GDP) in 2021 from 54.8 percent of GDP in 2020 and was expected to increase further to 76.6 percent in 2022.
The bank said financing of fiscal deficits through domestic resources has led to the accumulation of domestic debt, which increased from 21.9 percent of GDP in 2020 to 31.2 percent of GDP in 2021.
A shift in the composition of external debt toward commercial creditors at non-concessional terms has increased debt-servicing costs significantly, said the World Bank.
However, government is implementing a debt-restructuring strategy with its debt advisers to bring debt onto a sustainable path.
Let us know what you think of this article and remember to add us on our facebook and follow us on our twitter. Come back daily for more Malawi business news.
Quick Links: Download Business eBooks | Ten Signs You Are An Entrepreneur | What is a Managing Director?
Latest posts by Vanessa Banda
(see all)