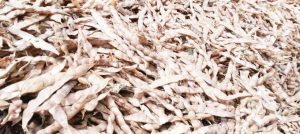 'Imports, exports to shrink in 2017'
The World Bank projects that Malawi's imports and exports will shrink this year due to reduced food importations and weak tobacco exports.
The bank gave the projection in its latest Malawi Economic Monitor.
According to the World Bank, imports are expected to fall by 5.4 percent while exports will weaken by 7.4 percent.
"Merchandise trade deficit is expected to decline from 16.7 percent of Gross Domestic Product (GDP) in 2016 to 14.1 percent of GDP in 2017," the bank says in the report.
It also says improved food harvest this year has resulted in Malawi significantly reducing food imports, thereby cutting the volume of total imports into the country.
"This significant decrease in the volume of food imports is projected to drive the total import bill down by 5.4 percent. When the decline in the volume of food imports is excluded, the total value of imports is estimated to decline by a modest 0.4 percent.
"Malawi's demand for imports appears to be subdued. Although the volume of imported fertiliser is projected to decrease as a result of the scaling down of the Farm Input Subsidy Programme (Fisp), the increase in average global prices, at 15.6 percent, is projected to lead to an overall increase in the value of fertiliser imports," the World Bank says.
It adds that there is anecdotal evidence that demand for other imports has been declining, with several manufacturing firms scaling down their activities and with the generally lower consumer demand associated with the various shocks that Malawi has experienced in recent years.
On exports, the bank says tobacco exports fell on account of reduced volumes produced. The decline in tobacco exports has, however, been offset, to some extent, by increases in the exports of other major commodities, including tea and edible nuts.
"On average, the production of other commodities increased with good weather, while international market prices have also increased," the bank says.
It also notes that Malawi's export of pulses has been significantly affected by India's imposition of an import restriction on pigeon peas. This follows a jump in production in India, the largest market for pigeon peas in the world.
"Malawi is the most significant producer of pigeon peas in Africa, with a large portion of this commodity being produced by smallholder farmers and exported to India and the United Arab Emirates. The over-supply in India and the subsequent imposition of the import restriction has resulted in a dramatic decrease in local prices, from around K500 per kilogramme at the beginning of the year to around K105 per kilogramme in September 2017," part of the report says.
(Visited 36 times, 23 visits today)
Latest posts by Vanessa Banda
(see all)