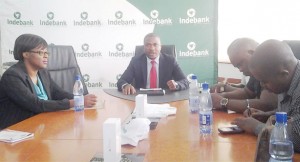 Indebank honours grand prize winner
Indebank on Wednesday presented a K2 million dummy cheque to a Nkhotakota-based business-person Joshua Haji who emerged the overall winner in the just-ended Phwamwamwa promotion.
Acting Head of Personal and SME Banking at Indebank Davie Kavinya said the promotion has led to significant growth of business at the bank.
"The promotion has met its objective which was to boost the social economic status of our customers and improve savings culture among them," said Kavinya.
He also expressed satisfaction with the impact the Phwamwamwa promotion has had in increasing the bank's deposits base.
"There is significant growth in terms of customer base in the aftermath of the promotion," said Kavinya.
The winner, Joshua Haji, expressed satisfaction with the cash prize and said it will boost his business.
"This is inspiring as I will use the money to improve my business," he said.
(Visited 17 times, 17 visits today)
Latest posts by Vanessa Banda
(see all)