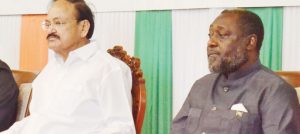 India VP visit reignites nandolo market talks
By Chimwemwe Mangazi:
Minister of Industry, Trade and Tourism, Henry Mussa, has asked India's Vice President, Shri Venkaiah Naidu, to intervene in processes leading to the two nations signing an agreement for India to resume importing pigeon peas from Malawi.
Mussa made the appeal during the India – Malawi Business meet in Lilongwe on Monday which was graced by Naidu, who paid a two-day visit to Malawi.
In August last year, India announced a ban on importation of pigeon peas but later offered a relief to exporting countries when it announced that it would import 200,000 tonnes of the crop in 2018-19 through quotas which Malawi missed because it delayed to sign the agreement.
Mussa indicated that Malawi is in dire need of a big market for pigeon peas being a crop that is grown in almost all the districts in the country.
"We want the highest authority of India to intervene so much that quickly we should sign the memorandum of understanding to facilitate exports of our pigeon peas to the Indian market that will be done because the Vice President has indicated that it is one of the items he will discuss with the Head of State," Mussa said.
Naidu did not comment on the issue but focused his attention on the Business Incubation Centre Project underway in Mponela in Dowa funded by his government, stressing that it is an indication of commitment to grow the industry in Malawi.
He called on the private sector in the country to work together with their Indian counterparts to boost trade between the two countries, which will translate in the growth of the two economies in the long run.
Latest posts by Vanessa Banda
(see all)