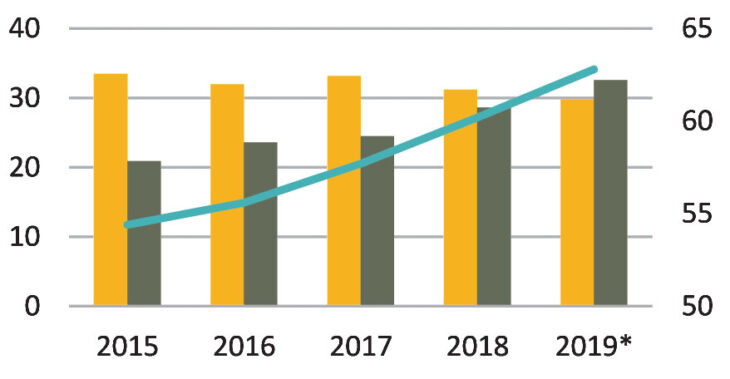 Industry captains lament poor first quarter
Dalitso Kabambe
The country's business operators have said enterprises had three months to forget in the first quarter of 2020.
Both the Malawi Confederation of Chamber of Commerce and Industry (MCCCI) and the Indigenous Businesses Association of Malawi (Ibam) Monday acknowledged that things haven't gone according to script in the first three months.
MCCCI Director of Business Environment and Policy, Madalitso Kazembe, said the quarter started on a promising note with falling interest rates coupled by a stable exchange rate.
However, Kazembe said things took a wrong turn in March with the coming of Coronavirus, also known as Covid-19, in this part of Africa.
She said Covid-19 has managed to erode most of the gains the economy recorded in the first quarter.
"Initially, the most affected sectors were tourism and travel but now it has affected almost each and every business.
"Looking ahead to the second quarter, I can say things look very far from promising because we now have confirmed cases and we also have trading partners who have put in place very strict measures, including border shutdowns. This makes the second quarter even tougher," Kazembe said.
On his part, Ibam president, Mike Mlombwa, said business has been extremely tough for small businesses even before the emergence of Covid 19.
Mlombwa said although interest rates have been in the decline in the first quarter, business opportunities have been scarce in the quarter.
"The coming in of Coronavirus has worsened the situation and would not be surprised if we see most indigenous businesses closing shop in the second quarter," Mlombwa said.
On Thursday, The Monetary Policy Committee of the Reserve Bank of Malawi reduced the Liquidity Reserve Ratio (LRR) and Lombard Rate
In view of the Coronavirus (Covid-19) pandemic but maintained the Policy Rate at 13.5 percent.
The development is expected to release primary liquidity of about K12 billion uniformly across the banking system in proportion to liabilities of the banks.
RBM Governor, Dalitso Kabambe, said in a statement the move will reduce the cost of accessing funds from the Central Bank and therefore will enable commercial banks to pass on the benefits to borrowers.
Kabambe said the decisions were deemed necessary to ease banking system liquidity constraints and incentivise commercial banks to adequately support the sectors that are hit by the Covid-19 pandemic.
Kabambe said the decision to maintain the policy rate was arrived at to mitigate against potential upward risks from the pandemic while monitoring developments as they evolve and act as and when necessary.
Let us know what you think of this update and remember to add us on our facebook and follow us on our twitter. Make sure to come back daily for more Malawi business news updates.
Quick Links: Malawi Radio Station Frequencies | Where To Eat In Malawi | Download Business eBooks | Ten Signs You Are An Entrepreneur | What is a Managing Director?
Today's top business story: Top Commercial Banks In Malawi
Source Link
Latest posts by Vanessa Banda
(see all)