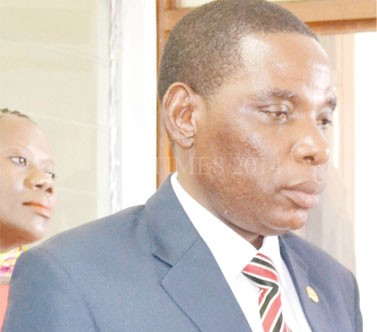 Industry told to wean off government
Minister of Industry and Trade Joseph Mwanamvekha has asked the private sector to be innovative and stop relying on the government's tenders and contracts.
Mwanamvekha has challenged the sector to be aggressive in producing products that can be competitive on the international market.
He was speaking during the official opening of the Mpico Gateway Shopping Mall in Lilongwe.
"Why should the private sector only wait for the government tenders and contracts instead of producing value added products and engage in import substitution? In normal circumstances, the government tenders should only supplement the private sector's business and not be the core business.
"How well is our private sector responding to incentives and opportunities offered by the government? My simple message is, the world is marching forward, and I would request the private sector to march with it. We need to be forward looking, innovative, and where possible, as Mpico has demonstrated, diversify our business portfolios," said Mwanamvekha.
He said the private sector should take advantage of the regional market opportunities and expand their markets.
"Let me encourage the private sector to think outside the box and take advantage of expanded regional market opportunities such as those provided by the Comesa, Sadc, preferential market access arrangements such as the Tripartite Free Trade Area which will be launched soon, the European Union under the Everything but Arms, the United States of America under the African Growth and Opportunity Act, China and India's preferential market access offers and other preferential trade agreements," he said.
He also questioned why the private sector should be importing products like fish, when they can produce locally.
"Why should our private sector focus on importing products, like fish, when we can produce our own gem, the chambo, whose demand keep on soaring? Am aware that some companies like Maldeco Aquaculture Limited are producing the Chambo in cages but the current quantities do not satisfy the domestic and foreign demand for the Chambo," said Mwanamvekha.
Latest posts by Vanessa Banda
(see all)