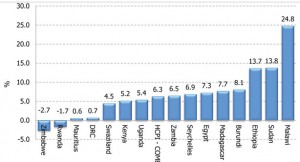 For three months running, Malawi's inflation rate, as measured by the harmonised consumer price index, has been peaking as the highest in the Common Market for Eastern and Southern Africa (Comesa).
Malawi's inflation figure keeps on rising recorded at 23.5 percent in June, 24.6 in July and 24.8 percent in August while neighbouring countries like Zambia and Zimbabwe are seen managing their inflation levels registering figures of as low as 7.0 and -2.8 percent in June and 6.5 and -2.7 percent in August, respectively.
As of August 2015, Malawi's inflation figure overtook the overall year on year inflation rate for the whole region which was recorded at 6.5 percent according to latest inflation figures from the Comesa secretariat.
This comes against a backdrop of a myriad of misfortunes in the economy which has seen the Malawi Kwacha depreciating to unprecedented levels in the midst of the tobacco marketing season.
And just recently, the International Monetary Fund declared Malawi's Extended Credit Facility programme off track after government breached agreed parameters.
Commenting on Malawi inflation status, the Economics Association of Malawi (Ecama) has cautioned government to control its huge appetite for expenditure, ensure steady food supply and boost the export base if it wants to tame inflation figures to acceptable levels.
Ecama Executive Director, Edward Chilima, observed that if there is no change in the way government is running the economy, then Malawi should not expect to reduce its inflation figures anytime soon.
Said Chilima, "We need to start doing things right if we are to contain inflation figures and we have already spoken about what needs to be done only that what is lacking is implementation. We have talked about the greenbelt initiative as one of the programmes that can boost food supply, but we are not seeing much on the ground. If we continue as we are doing, then let us not expect any change in these statistics," he observed.
Government initially projected a drop in annual average inflation to 16.5 percent by December, but according to Chilima, the target is unattainable in the current economic environment.
"We did not anticipate the drought, absence of donor support or even the unprecedented fall of the kwacha which have all had an impact on the economy and in turn inflation. I don't expect us to achieve that target judging by how things are at the moment," he said.
Earlier, Chancellor College Economics professor Ben Kalua told us that Malawi's inflation figure will continue to stand out in Comesa on account of low food production. Kalua observed that most Malawians spend over 50 percent of their income on food.
He said this makes cost of living among the poor higher as compared to other countries with stronger economies. Kalua advised government to improve food supply by supplementing small holder production and engaging in commercial farming.
Malawi's headline inflation rate was last reported at 23.0 percent by the National Statistical Office.
(Visited 1 times, 1 visits today)
Latest posts by Vanessa Banda
(see all)