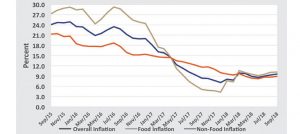 Inflation under control—RBM | The Times Group
By Taonga Sabola:
The Reserve Bank of Malawi (RBM) has said it remains confident the country's inflation remains under control and would average between 9.3 and 9.6 percent this year.
This is despite inflation rising for the third straight month in September although at a slower pace.
Headline inflation edged up by 0.2 percentage points to 9.5 percent in September 2018, from 9.3 percent recorded in August 2018.
The September 2018 inflation rate was higher than 8.4 percent recorded in September 2017, reflecting rising prices of food and non-food items.
Food inflation rose marginally by 0.1 percentage point to 10.2 percent while non-food inflation accelerated by 0.2 percentage points to 8.9 percent.
On a month-on-month basis, the consumer price index rose by 2.0 percent in September 2018, largely driven by food prices which rose by 3.6 percent compared to an increase of 0.7 percent in non-food prices.
Speaking in an interview Tuesday, RBM Director of Communications and Protocol, Mbane Ngwira, said, though inflation has come under pressure in recent months, it will still average below 10 percent this year.
Ngwira said, looking ahead, headline inflation is expected to continue rising in the next few months, adding that inflationary pressures will emanate from the 20 percent electricity base tariff increase and five percent fuel pump price hike effected in October 2018.
He said pressure on maize prices is expected to continue, albeit at a much slower pace in view of government's announced food support programme.
"Notwithstanding the upward risks to inflation, external developments remain favourable as the kwacha exchange rate to the US dollar is projected to remain broadly stable and global oil prices are forecast to moderate and average US$69.38/barrel in 2018 and US68.76/ barrel in 2019.

"Therefore, average inflation for 2018 is expected to remain in single digit at between 9.3 and 9.6 percent," Ngwira said.
Reflecting lower agricultural production this year, food inflation increased slightly to 10.2 percent in September 2018 from 10.1 percent in the previous month.
Maize prices continued to rise, albeit at a slower rate following the announcement that the government will distribute food aid across deficit areas.
On average, maize prices rose by 3.6 percent to K130.25 per kilogramme in September 2018 from K125.75 in August 2018, compared to a monthly increase of 7.2 percent recorded in August 2018.
Going forward, analysts expect maize prices to moderate, supported by government's free maize distribution efforts.
Non-food inflation, on the other hand, rose by 0.2 percentage points to 8.9 percent in September 2018 after remaining flat at 8.7 percent for two consecutive months.
Inflationary pressures largely resulted from second round effects of upward adjustments in electricity tariff of 7.1 percent affected in August, and in fuel pump price of 9.3 percent in July.
However, the out turn was lower than 11.6 percent registered in September 2017.
Analysts have predicted that in the ensuing months, pressures on non-food inflation will emanate from upward adjustments of 20 percent in electricity tariff and five percent in fuel pump prices effected in October 2018.
Latest posts by Vanessa Banda
(see all)