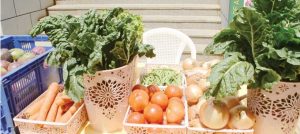 Informal markets draining millions | The Times Group
Malawi is losing millions in unaccounted for revenue as more traders are using uncharted routes to sale their agricultural commodities.
The traders do not declare their stocks when exporting, prompting Auction Holdings Commodities Exchange (AHCX) and Agriculture Commodities Exchange for Africa (ACE), the only two structured markets in the country, to agree on a partnership to counter informal trading.
The two have since signed a Memorandum of Understanding on how they will cooperate.
Under the partnership, the two companies will complement each other through financing and infrastructure, to reach more farmers with structured market facilities.
AHCX General Manager, Davis Manyenje highlighted that the problem is perpetuated because of information gaps at the production level.
"This is what we aim to address so that the uptake of structured market systems should start from there and move upwards. Smallholder farmers are looking for markets and price information that can give them direction," Manyenje said.
He added that the money that is lost is denying the country development as the same would have been used to fund development projects.
ACE Chief Executive Officer, Kristian Moller, said that the partnership will go a long way in popularising their operations; hence, dealing with informal trading of agriculture commodities.
"Our joint vision is that structured markets will develop agriculture in Malawi and, therefore, we need to look into any area which can accelerate this development. I believe that close collaboration can do that," Moller said.
In an earlier interview, spokesperson in the Ministry of Industry and Trade, Wiskes Mkombezi, said that issues to do with establishing an export mandate for agricultural produce is being debated at policy level.
He said an export mandate can help transform Malawi because when the systems are formalised, all stakeholders would be able to see the benefits of the whole value chain and marketing system.
(Visited 1 times, 1 visits today)
Latest posts by Vanessa Banda
(see all)