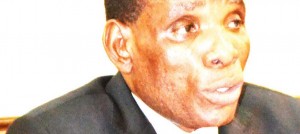 Insurance firms urged to innovate
Government has challenged players in the insurance sector to develop innovative products to increase uptake of insurance services. Currently, insurance penetration is at three percent.
Speaking at the opening of the Common Market for Eastern and Southern Africa (Comesa) 30th Meeting of the Council of Bureaux, Minister of Industry, Trade and Tourism, Joseph Mwanamvekha, said although the sector is key, low uptake of insurance services in Malawi and the region has continued to weigh on growth.
Mwanamvekha then called on the stakeholders to come up with clear strategies to boost competitiveness and enhance financial inclusion.
"We need to be innovative and creative by introducing more products on the market. Players should come up with innovative products that will increase penetration and grow the sector's input to Gross Domestic Product" said Mwanamvekha.
The Res e r v e Bank of Malawi has, however, projected the sector to grow by 4.7 percent this year with gross premiums expected to rise to 12 percent in real terms.
Mwanamvekha has suggested creation of products to incentivise small and medium enterprises.
"Insurance penetration is Malawi is very low and companies survive through government protection. Players should create products and services to pose as an alternative to a bank guarantee," Mwanamveka said.
Chairperson of the Insurance Association of Malawi, Dorothy Chapeyama, attributed the low penetration levels to instability in most key indicators. She said the country needs to work on making the business environment more conducive to doing business.
Comesa Director of Budget and Finance, Dan Haman, said cumulatively, input from the sector to the regional economy has remained minimal with the penetration rate paged at around one percent of the regional GDP.
"The main reason why the insurance penetration ratio remains very small is attributed, among others, to the overall poverty levels of the population, weak financial health of domestic enterprises and traditions linked to the use of insurance services.
"The onus is now on us, the insurers, reinsurers and regulatory authorities to urgently act and strengthen the insurance market to enable the industry to contribute towards developing the economies of our region," he said.
Haman then recommended a creation of adequate legal framework, effective mechanism of state regulation and supervision as a remedy in providing protection from potential risk necessary for effective functioning of market economy and for stimulating entrepreneurial activities.
(Visited 17 times, 17 visits today)
Latest posts by Vanessa Banda
(see all)