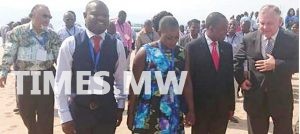 Insurance penetration worries Reserve Bank of Malawi
Reserve Bank of Malawi Governor, Dalitso Kabambe, has challenged the country's insurers to put in place interventions to help improve insurance penetration. Kabambe was speaking in Mangochi on Friday when he delivered a keynote address during the 2017 Insurance Institute of Malawi Annual Conference held under the theme 'Business Unusual'.
Kabambe said an insurance penetration rate of 1.4 percent after 53 years of independence is unacceptable. "Insurance penetration in South Africa is at 16.9 percent, Namibia 6.7 percent and United Kingdom 10.5 percent. Our penetration is, therefore, very low. On pensions, our assets represent 9.3 percent of Gross Domestic Product compared to 96.8 percent for South Africa, 79.9 percent for Namibia and 95.3 percent for United Kingdom, just to mention a few.
Similarly, as at the end of 2016, we had approximately 246,000 employees on private pension against an estimated 5.0 to 6.0 million people in the formal and informal sectors of the economy," Kabambe said.
The governor said the low insurance coverage reflects the existence of untapped pension market which requires the insurers to start doing business unusual to tap into this market. "We, therefore, seriously need business unusual ideas to turn our industry around and grow it.  We need to innovate and develop new ways and practices that will turn the industry around and make significant contribution to the development of our country. "Insurance is all about protecting our assets and investments.
Clearly, there are a lot of businesses, assets and investments that are not yet insured.  Why is this case and what can be done to ensure that the industry plays its rightful role?" Kabambe said. He noted that motor vehicle insurance dominates the industry despite Malawi being an agrobased economy.
"In the Agriculture sector, in particular, arguments have been made to the effect that if we had properly insured the sector, we could not have experienced the challenges of food insecurity and economic challenges the country experienced in 2015 and 2016 when the crop had failed due to weather variability. "These are some of the things we need to deeply reflect upon and come up with ways of dealing with such challenges in future," Kabambe said.
He also challenged the insurers to devise better strategies on how to invest pension and insurance funds intelligently. According to Kabambe, total pension and insurance funds now stand at K520 billion.. "With contributory civil servants pension scheme coming into effect, we project that pension and insurance assets will exceed K1.5 trillion by 2020. We, therefore, need to develop appropriate investment avenues for these resources to positively contribute to the growth of the economy," he said.
Insurance Institute of Malawi president, Immaculate Singano, underscored the need for insurers to start thinking outside the box to craft new ways to get more people banked. "In the present business climate, the view of business as usual cannot be accommodated anymore," she said. The conference attracted over 150 delegates drawn from various insurance companies in the country. During the indaba, former Old Mutual Malawi and Old Mutual Ghana Managing Director, Chris Kapanga, received the  Life Time Achievement Award for his contribution to the growth and development of the industry in the country.
(Visited 3 times, 3 visits today)
Latest posts by Vanessa Banda
(see all)