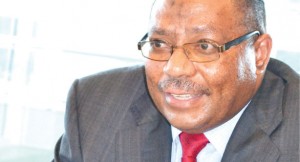 Interest rates slow lending
National Bank of Malawi (NBM) says banks are currently experiencing a slowdown in business due to reduced lending as a result of high interest rates prevailing in the country.
The bank has since challenged the government to come up with effective measures that help to bring down interest rates, which are currently hovering around 37 percent, to induce borrowing and stimulate investment and economic growth in the country.
Speaking in an interview in Lilongwe, NBM chief executive officer, George Partridge, said reduced borrowing from banks will not only affect banks but also means a slowdown in economic activity in the country.
"The situation is tough at the moment. We are at the deep end and we only hope things can get better," said Partridge.
He said as for banks, they are still able to make profits due to healthy capitalisation.
Partridge said the interest and exchange rates are only a reflection of the situation on the ground, saying government needs to control expenditure as one way of correcting the situation.
"I f the expenditure is controlled, things will pan out to be where they are supposed to be but as for now, we don't know what corrective measures are to be taken by government," said Partridge.
He was uncertain as to how things will turnout at the end of the year.
The International Monetary Fund (IMF) said recently that excessive borrowing by government to finance the fiscal deficit has resulted in the skyrocketing interest rates in the country.
IMF Malawi Mission chief, Oral Williams, said the rates have been "too high for too long," calling on government to tighten its expenditure to reduce borrowing through a downward revision of the 2014/16 national budget.
Finance Minister Goodall Gondwe says low inflows of revenue are forcing the government to borrow excessively but has promised to suspend some budgeted activities in a bid to reduce domestic borrowing.
Malawi's Extended Credit Facility (ECF) programme with the IMF has since been declared off track by the fund whose team is expected back in the country in December to reassess the situation and make recommendations about the future of the facility to the IMF board.
(Visited 2 times, 2 visits today)
Latest posts by Vanessa Banda
(see all)