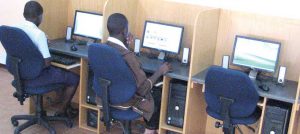 Internet boom eludes Malawi | The Times Group
Malawi has fallen three places on the 2017 Internet Affordability Report, dropping to position 51 in 2017 from position 47 in 2015. The report which is compiled by the Alliance for Affordable Internet (A4AI) was released last week and compares the accessibility of internet in 58 economies.
Neighbours, Zambia, Tanzania and Mozambique are above Malawi at positions 37, 39 and 45, respectively.
Colombia, with an Affordability Drivers Index (ADI) score of 72.87 percent tops the list followed by Mexico and Peru. Yemen anchors the list on position 58, worse than Haiti which is second from bottom.
The ADI does not measure actual broadband prices, nor does it indicate the affordability of broadband in a given country. Instead, it scores countries across two main policy groups such as infrastructure by looking at the extent to which ICT infrastructure has been deployed as well as the policy framework in place to encourage future infrastructure expansion.
The index also looks at the current broadband adoption rates as well as the policy framework in place to enable equitable access. Each country is awarded a score (out of 100) across a range of variables within each grouping, and is then ranked against the other countries in the ADI.
Higher scores indicate the existence of a combination of factors which contribute to lower the cost structure for broadband provision and eventually lower prices.
According to the report, 2017 will mark an important milestone as 50 percent of the world will be online.
"This milestone will mark the first time the scales have been tipped toward more people connected than not, and speaks to the impressive growth of the internet — just ten years ago, barely over 20 percent of the world's population was online," the report reads.
A4AI say s today, internet access is not only a catalyst for economic growth, but it is also increasingly a precondition for people to participate in government and society.
"Poor and marginalised populations arguably stand to gain the most. On the other hand, a world in which only the affluent enjoy the benefits of connectivity is a world in which inequality will quickly deepen.
It says sky-high connectivity costs remain one of the biggest obstacles to achieving the universal access pledge, adding that to buy just 1GB of data in Africa, for example, costs an average citizen nearly 18 percent of their monthly income.
"Though broadband prices continue to fall, they simply aren't dropping fast enough."
Speaking on the sidelines of the World Postal Day celebrations last year, former minister of information, Malison Ndau, said the government had signed seven memorandam of understanding with internet service providers from as far as Israel, India and Japan to boost competition and pull down rates.
Internet charges in Malawi hover around $600 per megabyte per second (Mbps) per month which is extremely expensive
(Visited 6 times, 6 visits today)
Latest posts by Vanessa Banda
(see all)