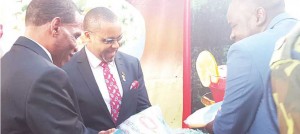 Investment forum courts controversy
The just ended second Malawi Investment Forum has attracted mixed reactions from participants who differ on how the event was organised and the benefits offered by the event.
Over 600 delegates attended the forum with the majority being local exhibitors and investors but while medium to large scale investors said the forum was beneficial as they have managed to get business deals, small scale entrepreneurs said the forum favoured big companies.
The small scale business traders faulted the organisers of the event for not giving enough visibility to their products as was the case with companies with bigger capacity.
Production Manager of Luso Unique Pottery, Blessings M'madi said the setback they faced was that they were given a booth far from the event place, where participants could not easily reach them.
"We were not visible hence it was difficult to market ourselves. If you look at those that have been given the front, they are big companies that are well known and they do not even need advertising," M'madi said.
Malawi Women in Mining Association President, Emma Adam, echoed M'madi's sentiments.
She said there is nothing tangible that as a group, they have benefited from the forum.
"We have capacity building needs and we thought through this forum, we will be able to get support from interested parties but considering the stand we were given, no single foreign investor or serious local investor has reached us," Adam said.
However, other exhibitors like Mtalimanja Holdings and Chombe Foods said the forum has helped them expand their market.
Chombe Foods General Manager, Gresham Thomas, said some of their products have attracted huge orders from both foreign and local companies.
"We have good orders for Chombe rice to export to Zimbabwe, South Africa and Kenya. This is a milestone for us and we are ready to satisfy the demand," he said.
Thomas also said the business to business meetings were important as they offered opportunities to businesses, especially in the line of finance.
"The presence of foreign financiers has also opened a new window for us to boost our business capital. We have engaged some of the financiers and we will see how they will help us," Thomas said.
Mtalimanja Holdings Limited Managing Director, David Kamchacha, said the growing demand for bamboo products saw the company getting orders from across the world.
"Through this forum, we have received a huge order from Italy for bamboo products like tiles and blinds. We have also received other orders from the East and some local individual orders," he said.
(Visited 130 times, 130 visits today)
Latest posts by Vanessa Banda
(see all)