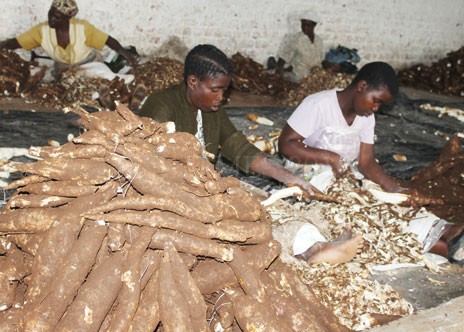 Investors explore cassava market – BNL Times
A delegation from four African countries is in Malawi to interact with local entrepreneurs and experts to explore business prospects in the cassava production and processing.
Under an initiative led by the University of Greenwich's Natural Resources Institute in close partnership with organisations in Ghana, Nigeria, Uganda, Tanzania and Malawi – the team aims to significantly boost the incomes of small-scale African cassava farmers by linking them to new markets.
Investment promotion leader, Alexander Osikhena, from Nigeria said there are high prospects in the production and processing of the crop in the country.
"Market prospects are there both within and outside Malawi," said Osikhena.
He said cassava can be used as a substitute for wheat as it is used to produce almost any products that are made from wheat. "And Malawi has vast potential," he said.
He said a survey is currently underway to assess the cassava market base in the five countries and business prospects across the continent.
He, however, cited low knowledge among small scale farmers and lack of reliable markets as a major challenge Malawi is facing.
"There are challenges which include low knowledge on production among small holder farmers, which in turn is also influencing a drop in the yields. Financing also remains a challenge among most investors and this is a huge problem among growers and producers in the country," he said.
Malawi's main processor of cassava flower, Universal Industries Limited, said the local market remain broads with more opportunities in the offing.
"We look forward to improve the sector by growing the levels of supply on the local and international market. It is in the interest of the country to further grow the business and the market base," said Universal Industries Limited Agronomist Rex Nyahada.
The project – funded by Bill Gates, is in Malawi working through Chancellor College of the University of Malawi.
Latest posts by Vanessa Banda
(see all)