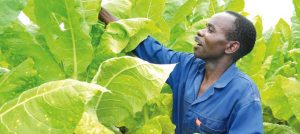 IPS boosts tobacco production | The Times Group
JTI Leaf has said the Integrated Production System (IPS), also known as contract farming, has helped increase tobacco production.
JTI Malawi Managing Director, Fries Vanneste, said this last week when Deputy Minister of Agriculture, Aggrey Masi, visited the company's contracted grower s .
"The time we started our IPS programme about four years ago, each grower was producing a maximum of 700 kilogrammes per hectare, now the same grower is producing 1,700 kilogrammes per hectare. We are more than doubling productivity. By doing that, the grower is getting more revenue," Vanneste said.
He, however said as a company, JTI is not only concerned with increasing productivity but also improving quality of the leaf.
"We have to limit the volume in line with demand. So what we do is to have the same volume from a small piece of land and releasing the remaining land to other food and cash crops. IPS helps farmers to diversify. With diversification you can start growing soya beans, groundnuts and other crops and sell the same at the floors," he said.
"I have visited a number of growers today who are contracted to JTI and everywhere I have gone, I have seen live barns. I am told it is one of the conditions JTI has set if one wants to grow tobacco with them. This is impressive and an answer to deforestation which is partly blamed on tobacco production," Masi said.
(Visited 20 times, 20 visits today)
Latest posts by Vanessa Banda
(see all)